'Halt and Catch Fire' Recap: 'Kali'
Relationships reach the breaking point on this week's 'Halt and Catch Fire'.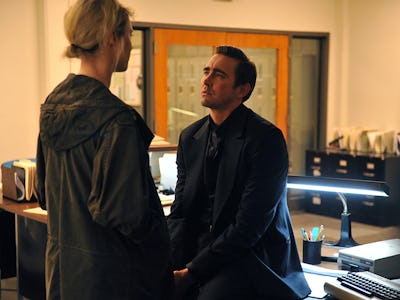 Richard DuCree/AMC 
The first season of Halt and Catch Fire centered on the relationship between Joe and Cameron and the professional-romantic tensions between them. The second season for a while ignored the entire relationship ever happened until the two characters' business careers crossed again. But in "Kali", the season's penultimate episode, their previous relationship places a heavy strain on who they're currently seeing.
After WestNet took the entire community and group of users Mutiny established, the company was desperate to figure out how to keep themselves afloat. The only thing Mutiny retained after WestNet took nearly everything was the games that they began to shop around. The game Extract and Defend, which was mostly created by Tom, ends up being the last straw for him and Mutiny. Bosworth, Cameron and Donna are able to successfully sell the game for enough money to reestablish their company from the brink of dissolving. Except that Tom didn't tell Cameron that this appears to be a final act of kindness from him to her, as he made a call to the company about potentially selling his game.
Joe and Sarah, despite plans to move to California, continue to dip in and out of love post-marriage because of Cameron. At the start of the season their relationship seemed a bit off and rocky, Sarah eventually did leave for a bit. Now that they're officially back and about to move to California it appeared that things might be finally be good. And even when Cameron threw herself at Joe, he stopped her because what did exist between them at this point can no longer continue. Yet, Sarah still sees the gleam in his eyes every time her name is mentioned even if he's admitted to her that her sight is unbearable. The same disgust is held by Tom, because he sees the same glow in Cameron — she still sees something in him and is too wrapped up in her work to even try to properly negotiate their relationship.
Cameron also is about to deal with the only person in Mutiny whose opinion she listened to with little hesitation — Bosworth. He's had this experience, but he's too far in his career to keep scraping along as his family continues to grow, and he'd also like more stability. Additionally, in a series of perplexing scenes, Gordon was sneaking around the warehouse of a competing computer manufacturer and fell down a flight of stairs, which places him in the hospital. Another sign that there is more going on within his mind that must be addressed. "Kali" stretched many of the relationship threads, and right now it'll be interesting to see if any of these connects are amended as the season comes to an end.