Sunday Lectures: Poker, Kepler, and Ejection Seats
Get smart without getting out of bed.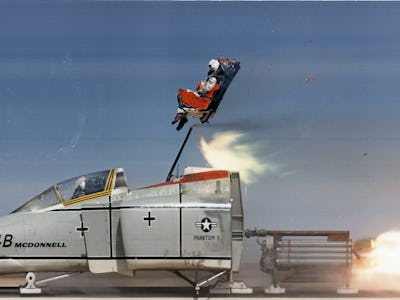 Sunday Lectures is a weekly roundup of the Internet's most interesting educational videos. Get smarter without getting out of bed.
Introduction to Poker Theory, Part 1
Remember that movie 21, where a bunch of MIT nerds used their math skills for gaming casinos? Instructor and MIT Poker Club member Kevin Desmond is living that dream, and with his course on poker theory and analytics, you can too.
Kepler 452b Hangout with SETI Institute scientists
Join the nerd party with these SETI Institute scientists as they discuss the latest findings — like Earth's newfound cousin — from the Kepler Mission.
From mammoths to Neandertals, ancient DNA unlocks the mysteries of the past
DNA extracted from the bones of ancient animals — like the wooly mammoth — reveals how modern species evolved and the environmental changes they went through. In this video, evolutionary biologist Beth Shapiro explains how.
Perimeter Public Lecture: String Theory "LEGOs" for Black Holes
Here, physicist Dr. Amanda Peet from the University of Toronto explains how string theory provides us with the building blocks — or LEGOs — that we need to understand phenomena like black holes.
How Do Ejection Seats Work?
Onscreen badasses from James Bond to Wile E. Coyote have used them for years, but do ejection seats work IRL? The answer is yes — and here, the good folks at Brit Lab explain how.