Google Responds to President Trump's Conspiracy Theory About Search Results
"Search is not used to set a political agenda"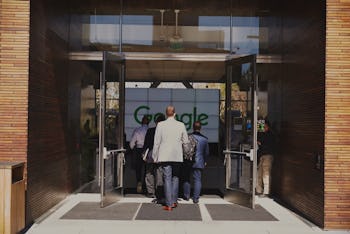 Google
A pre-6 a.m. tweet from President Donald Trump on Tuesday attacked the search engine Google for running a "rigged" algorithm that that the 72-year-old president says suppresses the voices of right-wing news media. The conspiracy theory floated by Trump "is a very serious situation-will be addressed!" he commented.
When asked by Inverse, for a response to Trump, a Google spokesperson replied plainly, "Search is not used to set a political agenda and we don't bias our results toward any political ideology."
Here's the full statement from Google:
When users type queries into the Google Search bar, our goal is to make sure they are receive the most relevant answers in a matter of seconds. Search is not used to set a political agenda and we don't bias our results toward any political ideology. Every year, we issue hundreds of improvements to our algorithms to ensure they surface high-quality content in response to users' queries. We continually work to improve Google Search and we never rank search results to manipulate political sentiment
Here's Trump's criticism in full, from two separate tweets:
Google search results for "Trump News" shows only the viewing/reporting of Fake New Media. In other words, they have it RIGGED, for me & others, so that almost all stories & news is BAD. Fake CNN is prominent. Republican/Conservative & Fair Media is shut out. Illegal? 96% of results on "Trump News" are from National Left-Wing Media, very dangerous. Google & others are suppressing voices of Conservatives and hiding information and news that is good. They are controlling what we can & cannot see. This is a very serious situation-will be addressed!
At 11:02 a.m. Tuesday, Trump's account posted the same two tweets again without explanation, and deleted the original tweets posted at 5:34 a.m. (The Boston Globe has reported that Trump's staff tweet for him often, typos and all.)
The Washington Post, in its coverage of Trump's tweets on Tuesday, noted that over the weekend, an article on the right-wing blog PJ Media put forth an assertion under this headline: "96 Percent of Google Search Results for 'Trump' News Are from Liberal Media Outlets," using anecdotal Google searches. "While not scientific, the results suggest a pattern of bias against right-leaning content," writes the author, Paula Bollard.
Asked if there needs to be some sort of regulation for Google, Larry Kudlow, the president's chief economic advisor, appeared to brush off the question Tuesday outside the White House by saying, "we'll let you know, we're taking a look at it, we'll let you know."
Google search results are determined by a variety of factors that have been documented extensively over the years by technologists, media companies, and academics. Factoring into any individual's search results are geographic location, previous search history, the number of relevant articles a domain has on the topic, the amount of time spent on a page in relation to its search ranking, age of article, relevant keywords, inbound links, and others.
Just last week, Google appeared to confirm its search neutrality by telling Inverse that it wouldn't interfere with its algorithm that was placing a parody website for Mike Pence higher than the White House website for Mike Pence. Because the parody website is a trending topic, and is flanked by real news sites discussing the topic, OfficialMikePence.com — the parody site — was considered relevant to the Google query, said a spokesperson.