New York Teen Invents Real-Life Closed Captioning
The 16-year-old's device could change the way deaf people communicate.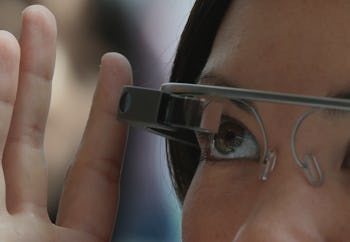 Getty
It's one of those things you can't believe Google Glass didn't think of with its built in mic and camera, but when Manhattan's Daniil Frants investigated, he found that the wearable didn't have the best setup for deaf people. So the 16-year-old took it upon himself to invent the Live-Time Closed Captioning System, a device that lets deaf people see conversations closed-captioned as they happen.
Daniil describes the invention to DNA Info as an "auto-head display," not unlike Google Glass, with a mic to pick up speech and a microcomputer to give the words phonetic form.
New York's Economic Development Corporation just named him one of 10 New Yorkers under 20 on the "young innovator to watch" list.
Daniil's invention is awesome as it stands, but if he can just find a way to integrate translation software, the kid will have a product coveted by anyone who's ever struggled with a language barrier. Call me, kid, we'll talk dollars.