Eminem's 'Southpaw' Track Is Perfect for Your Angsty Mid-life Crisis
By 42, most people grow up a bit.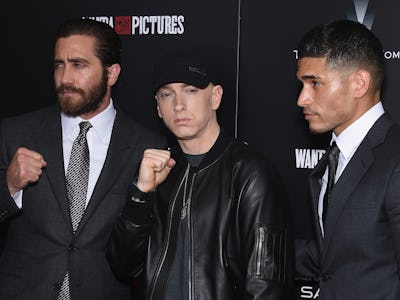 Dimitrios Kambouris, Getty Images 
Today is the opening of the boxing film Southpaw that stars Jake Gyllenhaal as a boxer, who … well, watch the trailer and have the entire movie spoiled, more or less. It was almost a lot more interesting, though: At one point Eminem was supposed to star. Instead, he contributed music for the film.
This being 2015 and not 1999, excitement over new Eminem music shouldn't be too high. Yet he appeared on Sway in the Morning to give an eight-minute freestyle that's already racked up over a million views. It grabbed headlines for lyrics about Caitlyn Jenner, which were of course transphonic, because what else would Eminem have to say.
When Eminem's original act in the late '90s was being angry, white, and angry, he could pull it off — he was in his 20s. But into his 40s those once winning of traits of homophobia, misogyny, and #bars aren't quite so appealing.
Maybe in 2015 we can all agree to not talk about him and say that we did.