Indonesia Earthquake: Tsunami Warning Lifted, But Officials Fear More Casualties
Both tourists and locals report extreme panic.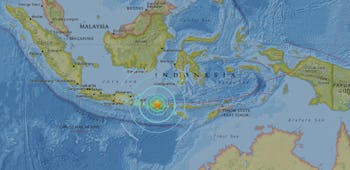 USGS
A powerful earthquake struck Indonesia on Sunday, affecting high-traffic tourist areas and prompting a tsunami warning. While officials have since lifted the tsunami watch, the magnitude of the earthquake has already caused serious aftershocks and at least three casualties.
The initial quake occurred on Sunday at 6:46 p.m. local time and was 10.5 kilometers deep off the coast of Lombok, an Indonesian resort island near Bali. This is just one week after the 6.4-magnitude earthquake that struck near Lombok killing 17 people and injuring 160 more.
It was first announced as a 6.8-magnitude quake and later revised to 7.0 on the Richter scale before being revised again to a 6.9-magnitude. While the exact measurement of strength is still being determined by geologists, officials have focused on rescue and evacuation efforts, which have been made worse by aftershocks and subsequent electrical blackouts. According to the New York Times, North Lombok district chief Najmul Akhyar told local press that although the agency can confirm at least three deaths, including two adults and one child, the blackouts have made it difficult for officials to know if there are other casualties.
Indonesia's Meteorology, Climatology and Geophysics Agency (BMKG) said that after last week's quake, Lombok and Bali had experienced more than 100 aftershocks. Given that Sunday's quake was seismically larger, the Bali Islands Disaster Migration Agency immediately issued a tsunami warning and at one point detected a tsunami in the Carik and Badas areas.
While the tsunami warning has since been lifted, the BMKG announced increased wave levels of roughly 5.5 inches and are predicting higher wave levels. The agency will continue to watch for rising sea levels over the next few hours when aftershocks will be at their most frequent. Minutes after Sunday's quake, the region began experiencing several aftershocks, including a 5.6-magnitude aftershock which sparked further alarm.
"All the hotel guests were running so I did too," Australian tourist Michelle Lindsay told Singaporean newspaper The Straits Times. "People filled the streets. A lot of officials were urging people not to panic." Lombok and Bali are located in what's considered the "ring of fire," a section of the Indonesian archipelago prone to intense volcanic activity. While the region is invested in preventing and offsetting the damage caused by such natural disasters, the frequency of earthquakes continues to incite panic among both locals and tourists.