Travis Scott's New Album Cover Is Tearing The Internet Apart — Here's Why
Instagramers are feuding after a trans model was photoshopped off of the new Travis Scott cover.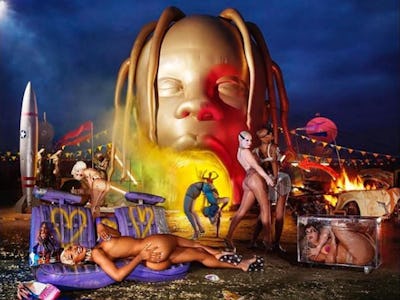 Instagram / Amanda Lepore
Travis Scott, the rapper and father of Kylie Jenner's baby, is in the throes of the release of his new Astroworld album, but a controversy ignited on Instagram may threaten to overshadow the new music.
So what's the big deal? Here's what you need to know.
Receipts Available
The controversy all began when Scott excitedly published his new album cover to Instagram on Tuesday, highlighting a bizarro circus scene with nude models.
The tizzy of excitement quickly spiraled into Instagram drama soon after, though, when trans model and nightlife queen Amanda Lepore posted her own version of the cover that, which she was in (above the purple seat), asking why she was removed from Scott's version. Verifying the authenticity of Lepore's version, the photographer David LaChapelle also posted a photo including the model the same day, without mentioning the omission in the final version. The only edits in Scott's version appear to be the removal of Lepore and a spotlight in the upper-left corner.
In the Comments
After Lepore's post, the comments on Scott's and LaChapelle's images blew up, with some accusing Scott transphobia.
Scott's post, which now has over 25,000 comments, is a microcosm of the controversy. On Wednesday, two winning drag queens from reality-competition show RuPaul's Drag Race commented on Scott's photo questioning the decision. The most recent winner, Aquaria, commented "Fishy…" before tweeting that Scott and his fans are transphobic. Another season's winner, Violet Chachki, commented "Fucked up that Amanda Lepore got cut."
Of course, Aquaria isn't wrong in her analysis. Scott's post is littered with disturbing transphobic comments. User yowhyyoumadcuhh wrote "KEEP HER OUT THE FUCKING PICTURE." G.samels recycled the common transphobic tactic of exclusively supporting women assigned female at birth, writing "Good job putting real woman on the cover."
The disturbing comments weren't just contained to Scott's posts. Angry Scott fans quickly migrated to Lepore's page posting hateful comments on her page calling her "disgusting" and worse.
Whodunit?
Theories proliferated quickly about who removed Amanda and why. The most popular theory, that quickly spread on the LGBT internet, was that Scott himself had Lepore removed from the picture because he was worried about sales.
An offshoot of the theory proposed the possibility that Kanye West had Scott remove Lepore because of a previous alleged relationship with her.
According to TMZ, however, sources close to Scott say they never even received a version of the cover with Lepore on it, suggesting she was removed by LaChapelle.
LaChapelle appeared to confirm this in his Instagram comments, writing that Lepore was removed because she pulled focus. In an Instagram comment, LaChapelle, who is gay and who has frequently shot trans women before, wrote, "No Amanda was taken out because she just upstaged every one lol… This is just a case of something else she can't just can't seem to control lol ain't nothing to do with hating."
After the comments, Lepore herself changed her post to say "Too distracting for the eyes! Upstaged everyone in the photograph! Oh well… I love @david_lachapelle and @travisscott."
Despite LaChapelle's apparent admission, the battle continued in the comments. User kekediesel wrote in Lepore's comments, "It's obvious from his comment section that he's catering to his Anti-LGBT fan base ☕️," referencing the intense amount of LGBT comments on Scott's post, as anti-LGBT commenters flooded Lepore's page.
While it seems all parties involved have agreed to LaChapelle's version of the story, the drama will inevitably online.