iFixIt Teardown Reveals Why Microsoft Surface Go Beats MacBook Pro
The new tablet is tiny yet versatile.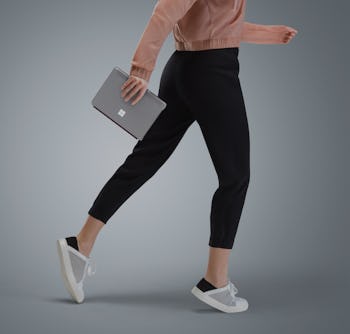 Microsoft
Microsoft's Surface Go hit shelves on Thursday, and a teardown of the device reveals it could edge out the MacBook Pro on the upgradability side. While iFixIt gave the tablet a score of just one out fo 10 for repairability (par for the course with the Microsoft Surface), the team came away impressed by how the 10-inch $399 tablet packs a lot for the money.
"Holy ports!" Sam Lionheart wrote in the teardown summary, noting how "the 'budget' Go has a greater variety of ports than any recent MacBook Pro, including a MicroSDXC slot—which is technically upgradable storage. Plus, they included a headphone jack. Not quite the upgradability we were hoping for, but hey, we'll take what we can get." Alongside these two, the Surface Go offers a USB-C port, a Surface Connect port for docking, a Type Cover port for attaching a keyboard, and support for the Surface Dial. The MacBook Pro offers a headphone jack and either two or four Thunderbolt 3 ports.
See more: Surface Go: How Microsoft's 10-inch Tablet Takes On the iPad
The machine packs a powerful punch, especially for a budget machine. It uses aa seventh-generation dual-core fanless Intel Pentium Gold 4415Y processor, with nine hours of battery. The cheapest model offers 4GB of RAM and 64GB of eMMC storage, while the $549 version offers 8GB of RAM and 128GB of solid state storage. The device also offers the same benefits as othe rmemebrs of the Surface line: Surface Pen support with 4,096 levels of pressure sensitivity, a specially-designed keyboard cover with trackpad, a webcam with face recognition sign-in, a kickstand with 165 degrees maximum extension, and a custom calibrated display with 3:2 aspect ratio offering 1,800 by 1,200 pixels.
The teardown revealed that Microsoft is using a surprisingly small battery for its machine, ranked at just 26.12 watt-hours, compared to the fifth and sixth generation iPads that offers 32.9 watt-hours. The decision to use Pentium Gold means Microsoft can opt for a fan-less, heatpipe-less design, but Lionheart notes that this could make it a harder PC replacement.
The Surface Go has already impressed its reviewers. Ed Bott, writing for ZDNet, claimed that it's "the best cheap PC I've ever used, especially when connected to desktop peripherals with a USB Type-C dock."