Video of Tesla Model 3 Dual Motor's Performance Shows Its Incredible Speed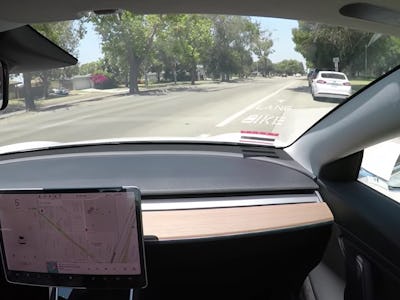 Claudio Gentilini/YouTube
The Tesla Model 3 is getting a performance boost. On Thursday, YouTube user Claudio Gentilini uploaded a video of his new all-wheel-drive electric vehicle, kitted out with the company's latest upgrade. It's not the much-hyped $78,000 performance edition, but the footage shows how Tesla's cheapest car pulls an impressive punch with the right additions.
The $5,000 option, added to the Model 3 order page, is the first time since the car entered production in July 2017 that consumers have the choice to upgrade from the standard rear-wheel-drive options. Tesla advertises acceleration of 0-60 mph in 5.1 seconds for the long-range rear wheel drive model, moving to 4.6 seconds with the all-wheel-drive addition. Gentilini's footage, however, shows the car taking two runs, one of which exceeds this advertised figure. While the first run clocks in at 4.68 seconds, the second run achieves a staggering 4.33 seconds.
See more: Elon Musk Reveals New Tesla Model 3 Extras, Next-Gen Supercharger and More
The upgrade was announced by CEO Elon Musk in May alongside the performance edition, so those of the 400,000 or so $1,000 reservation holders interested in a boost could add it to their order. The new option, as well as the performance model, use a dual motor configuration that can drive the car on one motor if the other breaks. The difference with the performance edition is the company sorts for the highest sigma output when choosing motors as there's a higher need for performance, and the motors will receive double the burn-in in the production process.
The setup replaces the rear-wheel drive with a dual motor configuration, both of which use silicon carbide inverters, using an AC induction front motor optimized for power that complements the partial permanent, switched reluctance magnet rear motor optimized for range. That means the front motor will work similarly to the ones used in the Model S and X, switching between the two "so smoothly that you can't tell."
With the dual motor option shipping out on both standard and performance models, expect further test times to become commonplace — with the performance edition rated for a staggering 0-60 mph in 3.5 seconds.