Target's Merona Shorts Are Cheap Fashion for the Relaxed Gentleman
They're pretty much always on sale. But I'd pay full price.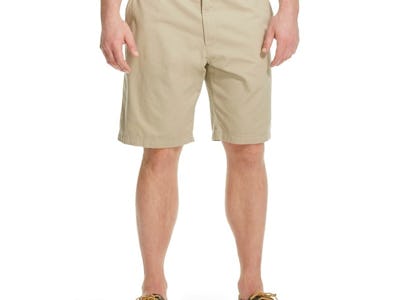 Target
Target has become kind of a trendy place, at least to the sorts of people who buy wine in 1.5-liter bottles and think of CNN as "fancy news." Earlier this year, for instance, designer Lilly Pulitzer put out a line for the big-box behemoth and it sold out in hours. A Target nearby has a decent wine and beer selection, boasting local products. And, perhaps most of all, Target isn't you-know-who. The Minnesota company has done yeoman's work to be the anti-Walmart — maintaining stores that don't feel like some combination of Mad Max and a local Dust Bowl re-creation society. Still, as fancy as Target can be, it's damn Target. And Target is where I cop my Merona shorts.
Merona is Target's house brand, which may not sound like much if you're the sort of person who isn't sure where the nearest Arby's is to your house or could find Scandinavia on a map. But even Michelle Obama reps Merona, so I guess I'm in good company. The brand's shorts are a staple of my summer collection. Let me count the ways why.
Merona shorts are available in a wide variety of colors and styles. I'm loyal to the flat-front khaki, but I've been known to rock gray and what Target calls "Federal Blue," which sounds like a CBS Thursday night show from 2004. Merona shorts are also durable. They're good to last you two or three years, a.k.a. as long as your mom will put up with you wearing them until she surrender-buys you new ones. The pockets, alas, are susceptible to wear and — come to think of it — I think I lost some keys through a hole once. But let's not dwell on these bad boys' few shortcomings. They're comfortable. You read that tag correctly: You're dealing with 100%, breathable cotton on your upper legs now, gentlemen.
Merona shorts are just the right length, Goldilocksing it where the knee bends. Best, Merona shorts are cheap. So cheap. Actually, sort of disturbingly cheap. They retail for $17.99 (again, flat-front — friends don't let friends rock cargo) but are always going on sale. Right now you can fetch a pair for $13.49, which is cheaper than what (carbon-rich, organic) dirt actually costs these days. I found some shorts on eBay, but I would recommend you stick with the new shorts — unless you are so stingy that you're the kind of person who shops at Walmart instead of Target. In which case, mercy on your soul.
Merona crew, out.