Watch This Artist: Olga Bell Returns with "Incitation"
Will it be the Fall of Olga Bell? Check out the Dirty Projectors alum new, big-beat single.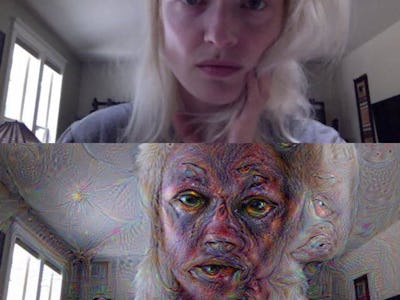 Perhaps the most regrettably overlooked album of last year was singer/songwriter Olga Bell's concept album Krai. To those not in tune with lower-profile New York indie rock or contemporary classical music, Bell is best known as Angel Deradoorian's replacement in the Dirty Projectors touring band (She also used to fill in with Chairlift). Bell is far more than a gifted hired gun, however.
Born in Russia and conservatory-trained, Bell's music as a soloist usually occupies its own, difficult-to-characterize stylistic sphere. Krai was aggressively individualistic; a song cycle entirely in Russian, it mixed traditional folk song snippets with Tuvan throat singing, haunting melodies steeped in the sensibility of Kate Bush or the Knife, prog-rock guitar atmospherics and colorful, cutting orchestral writing. There was no downtime; themes came back, returned and bled together. It was impossible to skip through.
While Krai featured some heavy acoustic instrumentation, Bell's debut single from her upcoming October album, Incitation, finds her returning to her roots in more exclusively electronics-based music. On the titular song, she's dealing in spare, heavily reverbed drum machine programming – she cites Outkast's "Bombs Over Baghdad" as a partial inspiration, and the drumline assault in the chorus reflects this – and ominous synth horns glazed with digital slush.
The feel here is much more My Brightest Diamond and Björk than were the songs on Krai, but "Incitation" still highlights Bell's gift for exotic, wayward melody; in the soulful, snaking bridge, Bell even taps a bit into her inner Toni Braxton. Definitely keep checking for more leaks from the album, and make sure to go back and try Krai if you've never sampled it.