This Is the Best Deal on a VPN We've Seen in a Long Time
VPNSecure is one of the best, and, right now, one of the cheapest.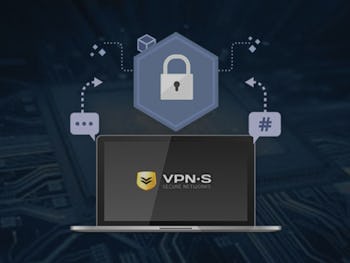 Stack Commerce
One of our favorite e-commerce sites, Stack Commerce is having itself a Prime Day sale of sorts, only this one lasts seven days and its website doesn't crash.
The latest and best deal of Stack Commerce's Digital Week is famed VPN provider VPNSecure, which has slashed the price of a lifetime subscription from $450, to $34.99, to $19.99 for the next few days ONLY. Get in on the action here.
Getting a VPN has never been more important. Not only does it protect you from hackers, and your boss's admin spying privileges when all you want to do is kick back with a sports stream on a Friday afternoon, it also lets you stay anonymous from ad trackers, and change your location so you can watch all the British Netflix you want (seriously, UK Netflix is lit.)
VPNSecure is one of the best providers, too. Its strict no-logging policy means nothing you access online is ever saved on a server anywhere in the world, it will work on five separate devices simultaneously, and its servers in more than 45 countries offer unlimited bandwidth, so you can surf not only privately, but lightning-fast.
This ridiculous time-sensitive deal on a vital modern utility won't last long, so get VPNSecure at its outrageous new price point while you can.