The Cannabist's Ricardo Baca Totally Watches 'The Bachelorette': MEDIA DIET
The marijuana editor lights up the spectrum.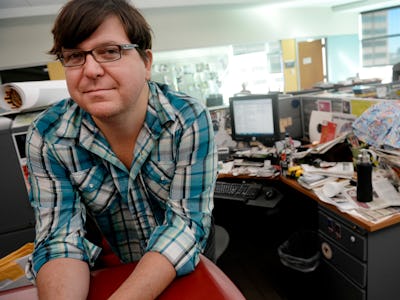 Craig F. Walker, The Denver Post
When he's not making appearances on The Colbert Report or The View, Ricardo Baca is the editing The Cannabist. The standalone website was founded in December of 2013 in response to Colorado's legalization of recreational marijuana — sales began the following January — and The Cannabist covers all things weed, from business to buzzes. Baca is regularly asked if he indulges in pot (he does). We rang him up in Denver to find out what else he consumes.
"High Times has been around for 41 years, and they are an absolute older brother to us," Baca explains, citing the roots of his site. "But what we do is very different." The Cannabist is in a league of its own, as not many newspapers have a dedicated staff — let alone a full-fledged website — covering dope. (It bears mentioning that Westword, Denver's alt-weekly, claims the nation's first pot critic: The recently-retired and fortuitously named William Breathes starting penning strain reviews in '09.) But Baca follows the contemporaries he can. "We absolutely try to cover marijuana news all over the world and I think the Seattles Times is killin' it. And The Oregonian's Noelle Crombie has done some of the most important journalism in the last six months, in this space. Also, Marijuana Business Daily does a great job reporting on the business of pot."
For his own personal knowledge, Baca turns to a trusty national source. "We subscribe to the electronic edition of The New York Times. That's pretty key; that's pretty clutch. I don't want to envision life without that." But, he still highlights a newsroom he respects, even if its where he clocks in. "I'd have to say The Denver Post, too. Even though we are facing tremendous challenges: We are losing between 20 and 22 colleagues to a voluntary buyout this week. Even though we are losing staff members and a lot of talent, I think we are still producing a lot of vital news here."
Baca also cites Vice and Last Week Tonight with John Oliver as new sources, saying of the latter, "I thought his Snowden interview was one of the best things on television in the last year." As far as other TV goes, he watches two programs "with fervor," and describes them as "polar opposites." Baca tunes into Anthony Bourdain: Parts Unknown with an eye toward what he does. "I think it's an important show: a necessary mix of politics, history, food and culture," he says. "That exact model is something I've tried to emulate for The Cannabist, specifically for marijuana."
And that other show? Well, best let him explain: "I also watch every episode of The Bachelor and The Bachelorette because that shit is seriously the most entertaining thing on television."
When he unplugs the cord, Baca focuses on a book club he founded five years ago. Monikered QTRLY, the club meets — you guessed it — every three months. His fave, so far this year, is Anthony Doerr's All the Light We Cannot See, which he calls "fucking gorgeous." It reminded him of his top pick from last year, Donna Tartt's The Goldfinch.
And it wouldn't be a conversation in July of 2015 if Amy Schumer didn't get name-checked. Baca and his new bride, Melana, caught Trainwreck on opening night. Of Schumer, he points to the 12 Angry Men episode of her show and says, "She's an awesome new brand of feminist that this world needs."
It'd be an oversight not to ask Baca about his current musical tastes, as he was the former music editor at the Post, and helped start its music site (Reverb) and music fest (the UMS, which takes place this upcoming weekend in Denver). He talks about both and also raises his hand as a daily reader of Pitchfork. The shows he's most looking forward to seeing this summer? Alt-J and J.Cole, both playing different nights at Red Rocks. And, no, you still can't smoke pot there. Legally, anyway.