This Insane New Lego Hogwarts Set Costs Four-Hundred American Dollars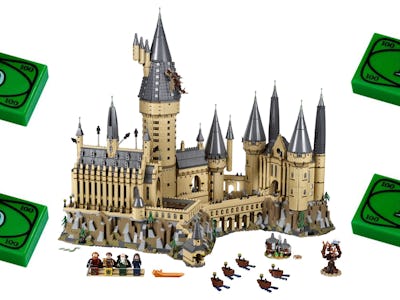 Lego
Harry Potter was rich as hell, even if he didn't really offer to help his buddy Ron Weasley or his family escape from poverty. But, even the Boy Who Lived might need to take out a loan from Gringotts in order to buy Lego's awesome, insanely detailed new Hogwarts Castle set, because it costs more than a Nintendo Switch.
Lego unveiled the new set to us Muggles on Tuesday morning, announcing that it the toy company's largest Hogwarts yet would be hitting shelves on September 1. Along with the announcement came a price tag: $399.99, because Legos rival crude oil when it comes to cost.
Legos are the best toy, though, even if they're so expensive that I'm worried, in retrospect, that I dove my parents into debt by asking for them to buy me so many Legos.
The Hogwarts set is nuts, though. It's built to microscale, which means that the little Harry and Hermione figures are the small enough to stand on a single Lego dot rather than the larger, more articulate minifigures people are more used to. This smaller scale allowed Lego to pack so much detail into this set. Hogwarts has a Great Hall, Chamber of Secrets, Room of Requirement, the entire gauntlet of trials from the end of Sorcerer's Stone, and much more.
The set also comes with a bunch of microfigures. Here's the list, per Lego:
Harry Potter, Ron Weasley, Hermione Granger, Draco Malfoy, Albus Dumbledore, Professor Snape, Professor McGonagall, Remus Lupin, Professor Dolores Umbridge, Argus Filch, Lord Voldemort, Bellatrix Lestrange, 3 students from each of the 4 houses, 2 chess pieces and the Architect of Hogwarts statue and 5 Dementors, plus Aragog the spider and the Basilisk figures, and a buildable Hungarian Horntail dragon.
Finally, Hogwarts founders Godric Gryffindor, Helga Hufflepuff, Salazar Slytherin, and Rowena Ravenclaw appear in the larger minifigure format.
The entire set looks tight as hell, and if you're a Lego and/or Harry Potter fan with four Benjamin Franklins lying around, you can snag it on September 1.