Two Dozen Raccoons Die in Viral 'Zombie' Outbreak in New York
A few of them have already tested positive for a specific, deadly virus.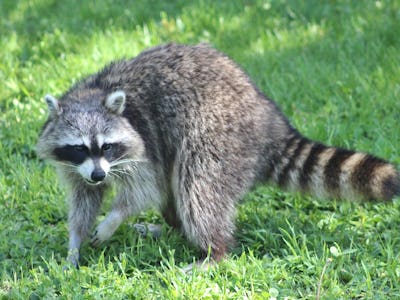 Flickr / Patti Petersen
A viral outbreak may be the reason that more than two dozen raccoons in Central Park have died in the past couple of weeks. At least 26 raccoons have been found dead in the park since late June, seemingly due to a bizarre virus that reportedly results in "zombie"-like behavior.
Officials confirmed the number of raccoon deaths this week, CW-affiliate PIX11 reported Monday. Of the 26 raccoons collected since June 24, two tested positive for canine distemper virus so far. Canine distemper is an incurable illness that can affect dogs and wildlife, including, as appears to be the case in New York, raccoons.
In an email to Inverse, a representative from the New York City Department of Health & Mental Hygiene sent this statement about the outbreak: "The Health Department and NYC Parks recently discovered raccoons infected with distemper in Central Park. No raccoons have tested positive for rabies. Test results have not discovered any risk to human health. The Health Department will continue to monitor the extent and duration of the condition."
What Is Canine Distemper?
The outbreak sounds similar to a series of incidents in Ohio several months ago, when police responded to over a dozen calls about sightings of raccoons acting strangely, mostly during the daytime, CBS-affiliate WKBN reported in April.
At the time, Geoff Westerfield, a wildlife biologist with the Ohio Department of Natural Resources' Division of Wildlife, told WKBN that raccoons that are behaving strangely and are caught to stop the spread of the disease must be euthanized.
What Does Distemper Look Like in Raccoons?
Distemper in raccoons is "more likely to occur" when populations are "large or concentrated," according to Oregon's Department of Fish and Wildlife. It reportedly strikes in cycles of five to seven years, and distemper can be deadly to raccoons in many cases.
In the midst of a similar distemper spike in Oct. 2015, the City of Toronto reported that distemper cases usually increase in the fall. It's not totally clear why distemper cases spike, other than the aforementioned cycles of five to seven years.
The ODFW reports that symptoms of distemper in raccoons include "discharge from the nose and eyes, a rough coat of hair, emaciated appearance, and unusual behavior such as disorientation or wandering aimlessly." That sort of behavior could certainly appear rather "zombie"-like to onlookers.
Should Humans Be Concerned About Canine Distemper?
Canine distemper does not affect people, but dogs and domestic puppies and dogs can become infected with canine distemper through airborne exposure (such as sneezing or coughing) from a dog or wild animal that is infected, the American Veterinary Medical Association reports. Additionally, it can spread through shared food or water bowls and equipment.
Puppies younger than four months old are particularly susceptible to canine distemper, as are dogs that have not been vaccinated against it.
Distemper is usually fatal in most cases, and dogs that do survive the virus usually have permanent nervous system damage, the American Veterinary Medical Association reports. It's better to be safe than sorry and make sure your dog is up-to-date with this particular shot.
This article was updated with a statement from the New York City Department of Health & Mental Hygiene on July 25.