Get the Ultimate $50 Summer Backpack for $16
The Hydro Pro will save your skin, literally.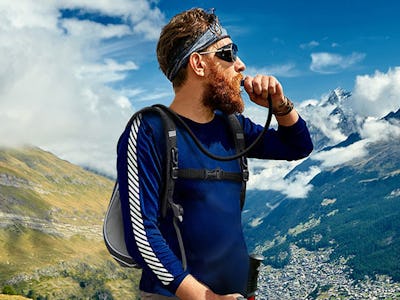 Stack Commerce
A fun fact about our increasingly inhospitable planet is that it's, more or less, just going to keep getting hotter from here on out. That means sweatier and longer summers, that means wishing you could take a shower six times a day, that means always! Being! Thirsty!
We've seen water backpacks before, but they've always been kind of a niche, specific item for the kind of person who hikes ten miles every weekend, even if they're hung over (seriously, those people, what is your secret?) But even if you're normal, there's something to be said for keeping some water with you on-the-go, no matter where you are. Water bottles can be forgotten, and they clang around in your backpack just waiting to split open and destroy your laptop, enter the Hydro Pro backpack, which is heavily discounted right now.
Hydro Pro Backpack (Black), $15.99
Hydration is key whether you're out on the trail or just a human person who needs water to survive, which is all of you. Using a flexible hose that draws from a heat-sealed BPA-free water bladder, the Hydro-Pro Hydration Backpack lets you tote your water with minimal bulk. Simply throw it on, feed your hose over the left or right strap, and hydrate as you blaze your own trail.
The engineering on this thing is top notch, and the Hydro Pro backpack will usually run you $49.99—a fair price. But for a limited time, Stack Commerce has them in stock for just $15.99. That's 69 percent off! Get one now and never go thirsty again.