Abra CEO Predicts $50,000 Bitcoin Price as Wallet Adds New Features
Bill Barhydt sees the cryptocurrency reaching new highs.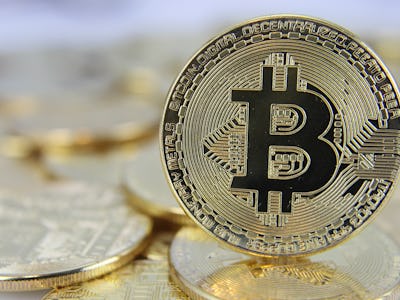 Flickr / Crypto360
Bitcoin may be slumping, but leaders in the community expect that the market could turn things around soon. Speaking with Inverse about the new features in its smartphone wallet app, out Thursday, Abra CEO Bill Barhydt is predicting that the market will eventually move out of its dip and in the long term will hit $50,000.
"We got way ahead of ourselves in December in terms of crypto pricing," Barhydt tells Inverse. "Long term I see Bitcoin at over $50,000 but it's not realistic to expect it to happen overnight."
Abra's smartphone app has the ability to buy bitcoin using a payment card from anywhere in the world. The feature is the latest development in terms of making cryptocurrency easier to purchase.
Easy-to-use user interfaces like Abra could spur adoption. The app unveiled support for a total of 25 cryptocurrencies in May, enabling users to trade between these coins and 50 fiat currencies almost instantly. Abra uses a combination of smart contracts to offer price-stabilized crypto coins, similar to how a gold exchange-traded fund is based off the United States dollar. Barhydt told Inverse in April that the system could expand to other asset classes like stocks and commodities, with the potential to one day become a complete crypto smart bank.
Abra's new feature means users can use their Visa or Mastercard credit or debit card to purchase between $50 to $20,000 worth of bitcoin via the website or the app from anywhere in the world. Purchases take between 20 and 30 minutes to show on a user's account, depending on processing times. Buyers can choose to send their bitcoin to a supported wallet or an Abra wallet. Before, users had to add bitcoin to Abra either through transferring from another wallet, or making a wire transfer to pay via the app.
"Abra's growth in 2018 has been massive over last year," Barhydt tells Inverse. "We now have users in over 75 countries who have conducted hundreds of millions of dollars worth of cryptocurrency exchanges this year. This launch will boost our international presence massively."
The cryptocurrency market, worth around $245 billion, has struggled to replicate its late 2017 success. With TenX co-founder Julian Hosp maintaining his predicting of $60,000, and Fundstrat head Tom Lee maintaining his $25,000 prediction, it seems a number of prominent figures in the field are standing by their belief that the market could turn around at some point soon.
One thing's for sure, though: development of crypto-based solutions has not stopped in the downturn.
Bitcoin has dropped in value significantly since its December 17 peak, where it hit $19,753 on market tracker CoinMarketCap. On June 29, bitcoin reached a new post-December low of $5,900, before reaching $6,190 at the time of writing.
The author has a stake in bitcoin and Ethereum.