A New Challenger Appears: ESP Gaming Announces MMA-Style Esports Showdown
It's kind of weird, but we dig it.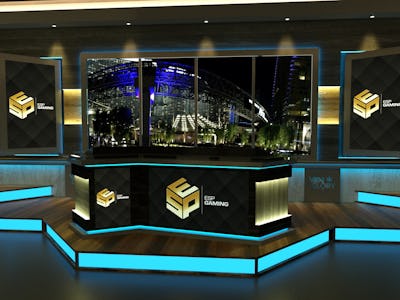 ESP Gaming
A new challenger has arrived in the world of competitive gaming, both figuratively and literally. ESP Gaming announced the World Showdown of Esports (or WSOE) on July 11. WSOE is a new kind of esports tournament modeled after boxing and MMA matches.
What does that mean? Most esports events are organized as round-robins or single-elimination tournaments, which are models popular with many traditional sports like basketball and football. But WSOE tournaments will be organized as cards, which is the format used in combat sport tourneys.
If you're not a fight fan, don't worry, the card format is pretty straight forward. Let's say a famous champion is defending his title against a contender. That match (or card) is called the main event. Before the main fight there will be undercards, which are less prestigious fights. Undercards can be exhibitions (fights with no title on the line) or championship fights in their own right but for less important titles. There can even be super tournaments that feature multiple main events.
ESP Gaming is taking this format and applying it to WSOE. Whether that's appealing or frustating really depends on your preference. In a bracket style tournament, you get to see a big variety of match-ups because you have competitors working their way through winners brackets, losers brackets, and sometimes open pools. In a card tournament, a single match (with multiple rounds) between two competitors determines everything. The first format has more range but less tension. The second format has more excitement but less options.
The first WSOE will take place on July 14-15 in PokerGO Studio at ARIA Resort & Casino in Las Vegas and PlayerUnknown's Battlegrounds (or PUBG) will be the featured game. This opening event, called the PUBG Pan-Continental, will host 16 teams of four players competing for a $100,000 prize pool, and featuring contestants from OpTic Gaming, Tempo Storm, and more. You can catch it on the official WSOE channel on Twitch.
PUBG might be WSOE's debut title but the tournament plans on featuring matches of multiple games across various platforms and genres. ESP Gaming hasn't declared any additional titles yet, but there is a logo for the mobile MOBA (gotta love that alliteration) Vainglory in one of the studio photos we received, so that's probably a safe bet.
A card tournament would be ideal for fighting games like Street Fighter and Mortal Kombat since the mechanics are already there — they are one-vs-one, round-based games with complex melee. Applying the card format to a battle royale game like PUBG, and using teams no less, is an odd choice.
But hey, I'm interested to see where ESP Gaming will go with this. They've already secured my admission by setting the tournament in Vegas, the mecca of combat sports.
Count me in… for now.