Elon Musk Details Boring Company Plan to Aid Rescue of Trapped Thai Boys
Musk is sending engineers to the scene.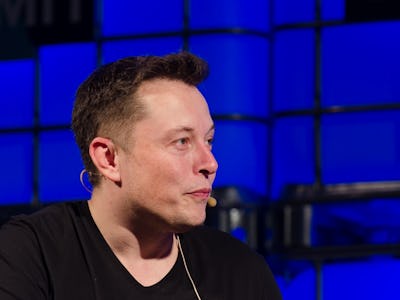 Flickr
Elon Musk has provided further details about how his tunnel-digging venture, The Boring Company, could help the 12 Thai boys trapped in a cave with their football coach. The tech entrepreneur, who said on Thursday he was "happy to help if there is a way to do so," confirmed on Friday that SpaceX and Boring Company engineers are on their way to Thailand to assess the situation and "see if we can be helpful to govt."
The group of boys, aged between 11 and 16, have been trapped with their 25-year-old football coach in the six-mile Tham Luang Nang Non cave since June 23. Experts have struggled to find a way to transport the boys out, suggesting they either wait until the flood waters recede or teach them how to swim out. Thai entrepreneur James Yenbamroong confirmed on Twitter that the SpaceX team reached out to him to connect with the government. Musk responded to the tweet by suggesting the team could maybe try inserting a nylon tube of one meter in diameter through the cave network, or a shorter set of tubes for more difficult sections, and inflate the construction with air "like a bouncy castle." The theory, Musk explained, is the network "should create an air tunnel underwater against cave roof & auto-conform to odd shapes like the 70cm hole."
Musk wrote on his Twitter page that it "looks like 1st bit of water is close enough to entrance to be pumped out. 2nd & 3rd would need battery packs, air pumps & tubes. If depth of 2nd is accurate, would need ~0.5 bar tube pressure. Prob need to enter tube, zip up & then transit." To avoid the need for an airlock, Musk suggested "a small velcro slit entrance & exit in circumferential direction (half stress of longitudinal direction)," so that "so long as air feed rate exceeds leak rate, tube remains inflated. This is how bouncy castles or inflatable mazes work. Needs very little power as the work (physics def of work) done is low. Pumping out water faster than it enters the cave system is prob 10X to 1000X more power."
Musk's tunnel-digging venture could play a role in simplifying the rescue process. Trained divers take around six hours to reach the group in an extremely tough route, and five hours to return. The majority of the divers involved in the rescue mission are from Thailand's navy SEAL unit, which numbers around 80. Petty Officer First Class Saman Kunan, a 38-year-old former SEAL part of the rescue team, died after entering the cave to place three oxygen tanks along a potential escape route. As more rain is expected over the weekend, time is of the essence. Musk noted his tube suggestion could significantly cut the time it takes to move through the tunnel: "Walking speed is around 5km/h, but if you're in an air tube, time doesn't matter much. If tube diameter was 1.5m, a fast walk of 5km would take 40 mins or so. Just need to duck for the narrow sections."
The SpaceX engineers sent out to reach Thailand for Saturday will help to decide next steps, as Musk explained on Twitter that "there are probably many complexities that are hard to appreciate without being there in person."
Musk has suggested a number of ideas beyond the nylon tube, including shipping fully-charged Tesla Powerpacks to boost pump rate in case it's an issue of electrical supply. On-the-ground assessment could shed more light on the best approach.