See Everything Clearer With These Military-Grade Flashlights
The Viper 1000-Lumen Tactical Torches are on sale now.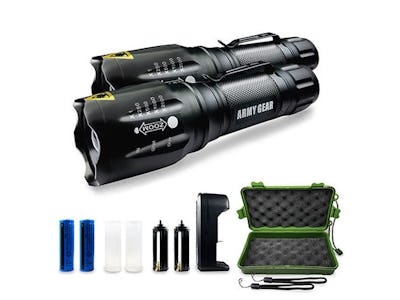 stack commerce
Your phone's flashlight is a marvelous thing: it can help you find the tiny pieces of rice you dropped into your bedsheets while housing a burrito (not based on a real example), and it's your friend in the dead of night when you need to stumble your way to the bathroom.
But sometimes you need a little more. Having a serious, grown-up, battery-powered flashlight around (or two!) is essential for modern living. Flashlight-less, you'll be kicking yourself during a blackout. When you fall down. Over and over again. Because you can't see.
With a 1000-lumen output and indestructible design, it's no wonder why military professionals count on tools like the Viper flashlight to light their way through hostile environments. These tactical torches boast an adjustable zoom that allows you to switch between a wider flood light and precision beam, while their five different lighting modes let you fine-tune their brightness and even signal for help in a rescue scenario.
You'll be able to take to any environment thanks to the weatherproof, ultra-durable design, and they can be easily stored and carried with the included shockproof case.There are also rechargeable batteries, so you'll never find yourself rifling through your kitchen drawer for AAs in the dark again.
Normally a whopping $119, two of the Viper flashlights are on sale right now for a combined cost of $29.99). If that were't wild enough, you can take an extra 15 percent off with the coupon code JULY4TH at checkout.