'Firefly' Creator Joss Whedon Reveals Next Comic Will Detail This Key Event
The critically-acclaimed series is back.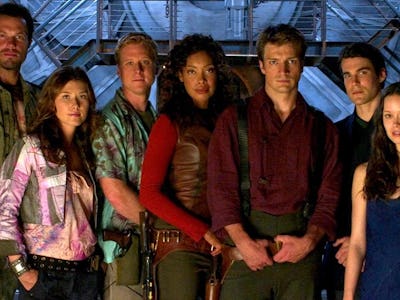 20th Century Fox
Brace yourselves, Firefly fans. Joss Whedon's space-faring epic TV series, cut short after a criminally underrated run, is returning in a new comic book. Firefly #1, announced Monday, is set to tell the story of the Unification War, and it's the first comic produced under the license to come from Boom Studios.
Firefly tells the story of an unequal space-age society fraught with conflict. Although the original 2002 TV show received critical acclaim, Fox cancelled it after just 14 episodes, with the 2005 film Serenity released after its cancellation to fill the gaps. The Unification War serves as the backdrop to these stories, with Malcolm Reynolds and Zoe Alleyne Washburne playing a key role as they ultimately lose the battle against a galactic government and set the scene for the show. Whedon told Entertainment Weekly in a statement that it's "high time we got to see the full story of Mal and Zoe's meeting and mission in the War of Unification — the good and bad that the pressure of war brings out in them, and the unforeseeable consequences."
Boom Studios has big shoes to fill. After the release of Serenity, Dark Horse Comics produced a number of follow-on stories like A Shepherd's Tale and Those Left Behind, the latter bridging the gap between Serenity and Firefly. The new comic book has the makings of a big success, with Planet Hulk comic writer Greg Pak penning the new work with artist Dan McDaid providing visuals.
Alongside the release, Boom will also re-publish a number of previous works under the title Firefly: Legacy Edition. Boom editor Jeanine Schaefer said in an Entertainment Weekly interview that "we want to cement Firefly as a pop-culture touchstone, enduring yet modern, in the tradition of other perennial sci-fi epics that are still teaching us about ourselves."
Firefly #1 is scheduled to hit stands in November.