100 Dead Hammerhead Sharks Dumped Ashore in Hawaii, Baffling Scientists
State officials suspect they were caught illegally.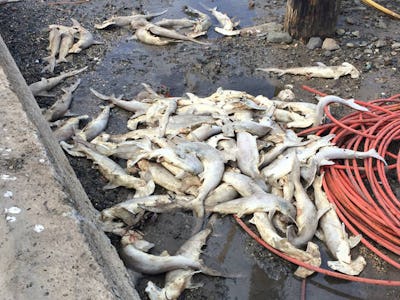 Hawaii Department of Land and Natural Resources
Samuel Etrata, an employee of the La Mariana Sailing Club, was the first person to stumble across the pile of nearly 100 dead baby hammerhead sharks that wound up on the shore near the club. "I see sharks right from here and then I walked farther and I see all this fish, the sharks across this barricade," Etrata told KHON. "It is very shocking, yeah."
The club overlooks Keehi Lagoon in Honolulu, where hammerhead sharks are known to pup in the summer, the Star Advertiser reported Tuesday.
Etrata reported his finding to the Hawaii Department of Land and Natural Resources, which is now investigating the incident. A DLNR spokesperson tells Inverse that there are no leads yet.
Andrew Rossiter, director of the Waikiki Aquarium, told KOHN that the sharks likely died after becoming entangled in a gillnet. "To breathe they have to keep moving, so once they're in the net for even two to three minutes, they're unable to breathe and they suffocate," he says. He suspects a fisherman unintentionally caught the baby sharks, then ditched them on the shore.
Gillnets have long been recognized as a threat to marine life, as they tend to indiscriminately ensnare sharks, sea turtles, sea lions, seals, whales, porpoises, and dolphins, who then die in the net that was never intended to catch them in the first place. So called because their holes are big enough for a fish's head to push through but so snug that the fish can't back, gillnets create a wall of net so any passing swimmer whose body is bigger than the holes will get trapped.
The Hawaii Division of Aquatic Resources allows the use of gillnets for fishing but requires that fishermen check them every two hours so unintended, illegal, or undersized catches can be released. In this case, though, it seems that clearly didn't happen. Rossiter says the state's regulations should be updated to protect species during reproductive periods.
"When it's the pupping season and it's a pupping area then maybe they should restrict or ban the use of gill nets just for a couple of weeks to give them a chance," Rossiter told KHON.
The DLNR tells Inverse that catching sharks isn't necessarily illegal. "The concern is to learn and confirm how they were taken," says the DLNR spokesperson. "This will help determine if any laws were violated. The dumping of the animals may be a violation of criminal littering if on public property or private property if the property owner wishes to pursue charges"
State Senator Mike Gabbard, for one, has tried unsuccessfully to get a law passed that will make it illegal to catch sharks in gillnets. One bill, introduced in 2016, passed in the Senate but died in the House.
"I'm sick to my stomach about what's happened today," he told KHON. "It's really giving me the incentive to make sure that this bill gets passed in 2019."
Update 7/2/2018: This article has been updated to include comment from Hawaii DLNR.