Why Won't Trump Help Facebook Prevent Russian Election Interference?
Tech companies are doing their part. Now it's time for Trump to do his.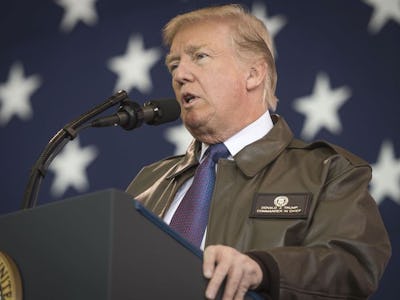 DoD
From watching the way Mark Zuckerberg got grilled during his Congressional testimony in April, you'd be led to believe that there's a bipartisan desire to prevent election hacking in the future. A new report indicates that despite this, the Trump administration is dragging its feet in helping big tech companies prepare for the 2018 Midterms, despite tech companies own efforts, which include hiring employees with security clearances.
On Monday evening, The New York Times reported that representatives from top tech companies including Amazon, Apple, Google, Microsoft, Oath, Snap, and Twitter met with officials from the Department of Homeland Security and the FBI at Facebook's headquarters in Menlo Park, California. The meeting, organized by Facebook, was supposed to address ways that the tech giants, who were specifically targeted in 2016 election interference, could prevent repeating history for the 2018 Midterms. The Trump administration had other ideas.
Information sharing was reportedly one-sided, with Trump administration officials sharing very little:
The tech companies shared details about disinformation campaigns they were witnessing on their platforms, but neither the F.B.I. nor the Department of Homeland Security was willing or able to share specific information about threats the tech companies should anticipate, the people said.
What's Wrong With Tight Lips
You don't have to go very far back in history to understand why the government's unwillingness to share information could lead to disaster. In 2015 and 2016, ads created by Russia meant to influence American and British politics reached 126 million people on Facebook. Platforms like Instagram, Tumblr, and Reddit were also targeted.
Despite knowledge of the campaign by the summer of 2016, intelligence agencies failed to reveal the scope of the operation to the White House or Facebook until after the election.
While it's hard to measure how significant the millions of dollars spent in Russia's extensive campaign were, the risk is clear — we don't want outside actors attempting to sway US politics with veiled political ads.
Why Would the FBI Keep it To Themselves?
While going into specifics about threats posed to the American election system would certainly be helpful to American democracy, there are a few possibilities that could explain why DHS and the FBI could be keeping particulars to themselves.
A Culture of Secrecy
The FBI, CIA, and other intelligence agencies have been repeatedly criticized for being secretive to a fault, holding onto information in times when it could have been useful. In February 2018, the agency was criticized for sitting on a tip about Florida school shooter Nikolas Cruz. In 2014, an inspectors general report criticized the FBI for not sharing information that it had on the Boston bombers with local law enforcement. Most famously, the intelligence community was criticized for unnecessary secrecy and a lack of information sharing in testimony by Attorney General John Ashcroft to the 9/11 Commission.
The situation in Melo Park is slightly different, though. Facebook and the other tech companies present are private corporations, and sharing classified information about national security with the uninitiated poses its own risks. But at least Facebook has tried to address this. A Facebook representative tells Inverse that Facebook has hired employees with security clearances to interface with government officials concerning classified information.
What Does Trump Want?
Another, darker possibility is that Trump's influence is at play — in the form of directive or simply omnipresent fear.
President Trump has sent decidedly mixed signals on his belief in the idea that Russia interfered in the 2016 election. Up until 2018, Trump repeatedly asserted that he thought that the idea of Russian election hacking was fabricated as an attempt to undermine his presidency.
As the investigation into Russia's role in the election continued, however, Trump eventually buckled and announced that he would attempt to prevent election tampering in 2018, but considering his long history of disbelief, it's hard to tell what specific directives his administration may be acting on.
Perhaps a more likely possibility is that Trump's administration is slow to cooperate with Facebook and other large tech companies simply out of fear. President Trump famously fired former FBI Director James Comey seemingly because of the escalating investigation into President Trump and Russia. It's certainly possible that members of DHS and the FBI are reluctant to advance the narrative of Russian election interference simply for fear of their jobs.
Whatever the reason is, the lack of transparency is stunning considering the consensus in the intelligence community that Russia successfully meddled in the 2016 election, and plans to again in 2018.
In 2016, Facebook and other technology companies certainly carried some of the blame — prematurely brushing off early signs of interference. But now, Congress and government officials have put technology companies under the microscope. They're seemingly doing their part. Now it's time for the Trump administration to do theirs.