Sharon Van Etten on Going Deep for Tig Notaro
The singer-songwriter talks about the parallels between music and comedy.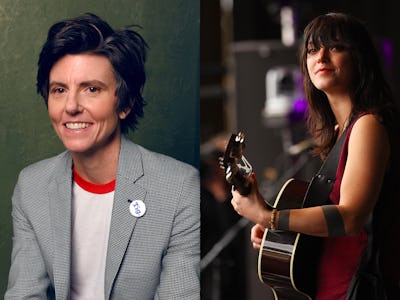 Getty Images
Friday sees the Netflix release of a new Tig Notaro documentary entitled, with brevity in mind, Tig. It chronicles the aftermath of the comedian's diagnosis with cancer, the end of a relationship, and the death of her mother — all of which occurred in a sudden onslaught and begat one of the most storied stand-up sets of the past decade: one where she kicked things off with "I have cancer" and got even more intimate from there.
For such heavy subject matter, there couldn't be a better choice for the soundtrack than Sharon Van Etten. The singer-songwriter can be gut-wrenching but is always bewitching. She was in the middle of writing "Words" when the lead singer of Guster (who also happened to be in charge of the Tig soundtrack) gave her a ring. We caught up with her to talk about the serendipity and synchronicity of it all.
Did you write the song specifically for the documentary?
I had started writing it before I was asked to do something. And when Ryan Miller — who did the soundtrack for the movie — reached out to collaborate, I was working on a song about the struggle of finding words and what the creative process is like sometimes: how emotional it can be. I was still finding the words to that song when I saw the documentary. A link was sent to me before I even agreed to do anything, because I didn't even know the context, yet. I was really, really moved, and finished writing the song for the documentary.
So were you a fan of Tig's beforehand?
I knew a little bit about her, and she also works with my label. So, I'd heard nothing but good things about her as a person — as well as an artist — from people that I know and respect.
Have you two met?
No, I feel like I would just burst into tears.
Why?
Her journey was such a struggle, on top of how strong she is as a person. Beyond her stand-up and how honest she is, her story is so moving. She keeps working and keeps putting herself out there. That's really hard to do.
Do you see parallels with what you do?
Well, I'm lucky in that I can be a little bit more veiled with my music. I still write from a very personal place, but I feel like what she does is much more specific. But I think we parallel, for sure: What we do is based on our lives. It's our outlet to feel better and keep going.
On the song, you sing the phrase "just words" which can have a sense of meaningless in the modern lexicon. What did you mean by it?
Not everybody connects with words and not everybody creates with words. The way I write is pretty stream-of-consciousness. The first couple of rounds of writing a song need a lot of shape. Working on lyrics is looking at these endless words. You're trying to translate emotions into words that people can, hopefully, connect to; it's that disconnection from your emotions into lyrics. That's the important part, right there. Whether it's writing stand-up for Tig or writing a song, for me — sometimes there's a disconnect between what you're feeling and what you're trying to put down on paper. There can be the frustration of creating but there can also be the release.
Is there anything that happened to Tig that made you feel so emotional?
It honestly was a series of events. I was moved through the entire movie; I couldn't stop watching it. She just kept going. It was struggle, but she still rose above it every time through the strength of her friends and her peers and kept going. Life can shit on you. And she didn't let that hold her back from pursuing her work and being a really good person.
Do you have other favorite comedians?
I admire Todd Barry and Louis C.K. Sarah Silverman, Jerry Seinfeld, Larry David. I don't really know as many New York comedians these days, but I love going to the Comedy Cellar in Manhattan. It's a really great comedy club. I love to laugh. What I do for work can be so serious. And I think a comedian has one of the hardest jobs in the creative field. Music and writing are relative, and people connect with it however they want, but comedy is funny. It can have angles like being dark or slapstick, but, at the end of the day, comedy is very specific: It has to be funny. And you have to be on all the time. A musician can still have a bad day and still play a show. It may not be great, but it's not his or her job to be funny or talk to people. I have a lot of respect for comedians. I could never do it, that's for sure.