Neil deGrasse Tyson Shares Nobel Prize Stats Amid Migrant Family Separation
The scientist shared the number of immigrants that have won the prize.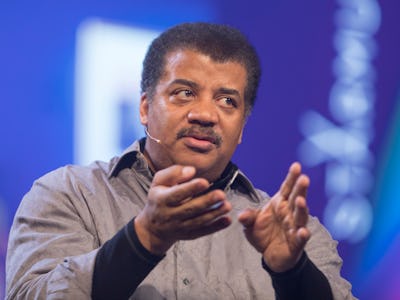 Flickr / Trondheim | Gjøvik | Ålesund
Neil deGrasse Tyson has highlighted the achievements of immigrants in the United States, in the same week that president Donald Trump's "zero tolerance" policy on the Mexico border has drawn fierce criticism. The astrophysicist shared an image Tuesday of the Nobel Prize, highlighting that 95 out of all 289 Sciences prizes were awarded to American immigrants.
The post comes as numerous figures come out against the administration's policy, implemented last month, that criminally prosecutes people that cross the border. It's led to around 2,000 separations over the past month — a sharp increase compared to the 700 separations over the six months before April. Tesla CEO Elon Musk has said "I hope the kids are ok" while the head of the American Academy of Pediatrics described the policy as "nothing less than government-sanctioned child abuse."
Tyson, who uses his Twitter account to share musings on science and its applications to everyday life, also criticized Immigration and Customs Enforcement by stating "as is true for all Mammals, we nurture, care for, and protect our young. So I'm guessing that if we were Bears, ICE agents who separated children from their parents would have all been mauled by now." Tyson responded to a Twitter user asking him not to "talk politics" by stating "mammals in general, and Bear behaviors in particular, are not political."
It's not the first time Tyson has criticized the administration. He suggested in November 2016 that the then-president-elect Trump should visit outer space to benefit from the overview effect, a psychological phenomenon that gives people a new sense of awe and respect for the planet. A few days later, he suggested he would grab Trump's crotch to get his attention before discussing science.
It's unclear whether Trump's current policy will continue for long. While the policy has widespread opposition with 66 percent of all voters opposing it, only 35 percent of Republicans reported the same sentiments.