The 2018 World Cup, Predicted by A.I.
Predicting the World Cup is notoriously difficult, but a "swarm" of experts might just get it right.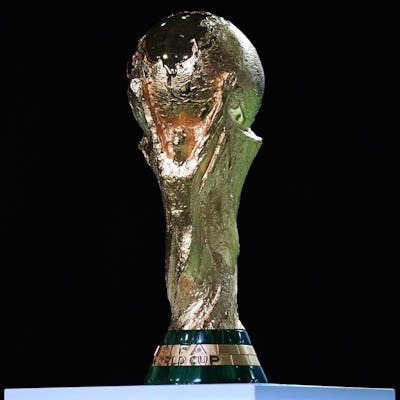 facebook.com/fifaworldcup
The World Cup kicks off Thursday in Russia, and for the following four weeks and change, some of the world's best soccer players will represent their countries in the 32-team tournament. In the United States, that means most matches will be played in the morning, given the time difference, and even though this country's national team (along with former powerhouses Italy and Chile) didn't qualify — sob! — there will still plenty of narrative and talent on display.
Predicting the World Cup's winner is notoriously difficult, but as San Francisco-based technology firm Unanimous A.I. has proven with the NCAA Tournament, the 2016 Kentucky Derby, and even the 2018 Oscars, when humans make decisions together as a swarm or hive-mind, their group choices are statistically more accurate more of the time.
Louis Rosenberg, Ph.D., created a technology he calls "Swarm Intelligence" that harnesses the power of collective human intelligence, which Rosenberg thinks can go toe-to-toe with neural networks being developed by Google, Apple, IBM, and other major technology firms.
"I'm talking about forming a hive mind," Rosenberg said in a TEDx Talk last fall. "Biologists call this 'swarm intelligence' and it's a natural step in the evolution of most social species.
"A brain is a system of neurons so deeply connected that an intelligence forms. A swarm is a system of brains so deeply connected that an intelligence forms," Rosenberg said from the stage at TEDx. "A swarm is a brain of brains and it can be smarter than any individual member."
It's a way of thinking used by honey bees, he reasons. For example, a swarm of 10,000 bees that needs to find a new hive will send out a few hundred scouts to find a new site for a home. Individually, a honey bee has an impressive brain for an insect, but it can't be expected to find a hive for 10,000 of its family members on its own. So the group of a few hundred bees, working together, picks the best possible location for their hive, and it does it an astounding 80 percent of the time, Rosenberg says.
The bees do their own vibrating — a "waggle dance" — to communicate their opinion about the best location to each other. "They find the solution that's best for the group as a whole," Rosenberg says. When choosing World Cup winners, it's not entirely different.
In this case, a "swarm" of soccer fans made a collective decision with a Unanimous A.I.-developed website where that enables experts — here it was about 30 from the United States and Europe — to work together, like those honey bees, to make a decision on the winners for each of the eight groups in the World Cup. Each group has four teams and the swarm was asked to predict where they would end up after each team finished the three-game group stage.
As you can see in the animation above (we pulled once from a college basketball game this past spring), each swarm participant controls a little golden magnet and uses it to drag a glass-looking puck toward an answer they think is the most likely outcome for each situation. Things get interesting when a user sees the puck being dragged by other members of the swarm toward a particular outcome; that seems to trigger a psychological response and the user readjusts their decision. Within a matter of seconds, the swarm builds toward a consensus. The A.I. comes in to help smooth out the movement of the group and make its move toward a decision more graceful.
"Like any tournament, the number of possible outcomes is incredibly large as you weave through round after round, so it all comes down to probabilities," a Unanimous A.I. rep tells Inverse. "There will certainly be upsets along the way, but we do have a set of outcomes that we believe are the best possible forecasts for the set of information that is available to sports fans.
2018 World Cup Group Stage Winners, Predicted by AI
In the World Cup group stage, three points are awarded for a win and 1 point for a draw. The top two teams at the end of the three-game group phase advances to the "Round of 16" — think of the Sweet Sixteen in the NCAA tournament.
For example, Germany, which won the World Cup four years ago, is expected to place first of four teams in its Group F. If that happens, as Group F winner, it will play the second-place team from Group E, expected to be Serbia, or less likely, Switzerland:
Teams that finish third and fourth in each group go home. That said, here is how the swarm saw all eight 2018 World Cup groups finishing:
The Round of 16 match-ups are easiest to predict because they come from the more predictable Group winners. As such, here is what the swarm predicted for the Round of 16 in the World Cup, which consists of eight matches and pits the winners of one group against the second-place winners of another group. The 2018 World Cup Round of 16 starts on June 30 and ends on July 3.
The swarm of fans predicted with 80 percent probability — a figure determined in part by the swarm's quickness to come to a decision — that Germany and Brazil would advance to the quarterfinals of the tournament. France and Spain (which fired its manager this week after the the swarm made its picks, it should be noted) had a 76 percent probability to go through.
"Out of the 32 teams that are entering the competition, the four most likely to reach the semi-finals are Germany, Brazil, Spain, and France," Unanimous A.I. tells Inverse.
The tightest matches in the Round of 16 — and the ones that should make for great viewing — are predicted to be Colombia vs. England on July 2 and Uruguay vs Portugal on July 1:
"The two teams that are most likely to upset that scenario are Argentina and Belgium. And the three long-shot teams that have the best chance of outperforming expectations are Portugal, England, and Uruguay," Unanimous A.I. advises, based on the decision of its swarm.
The semi-finals (July 10-11) and the World Cup final, set for July 15, will most likely see familiar countries, the swarm of football fans have predicted.
Brazil, a pre-tournament favorite to win the whole thing, has a slightly less-likely probability of winning the tournament, according to the hive mind, as the chart below shows. The team famous worldwide for joga bonito — "to play beautifully," in Portuguese — has almost a 19 percent chance of winner the World Cup, which is slightly lower than the 20 percent chance that Germany has.
Behind Germany and Brazil come Spain and then France, two other powerhouses. Historically, South American teams have found it very difficult to win a World Cup in Europe and vice versa, but that may change as more South American players play their club football in countries like Spain, England, Italy, Germany, and France.
Follow Inverse's future-focused coverage of the 2018 World Cup.