NASA Publishes SpaceX's Proposal for a Futuristic Kennedy Space Center
The "rocket garden" might just get approved.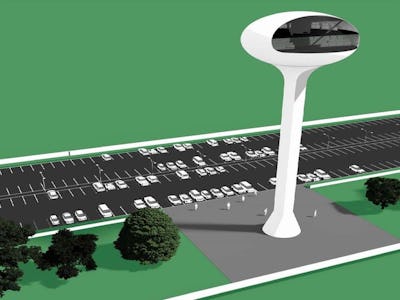 NASA
The Kennedy Space Center might be getting a major upgrade and expansion soon if Elon Musk gets his way. NASA published a plan submitted by SpaceX that dramatically reimagines the company's presence at KSC in Cape Canaveral, Florida. The plans include everything from a control tower that resembles a flying saucer to a "rocket garden," showcasing futuristic designs that will expand the space company's footprint and potential influence within the US agency.
NASA published a draft environmental review for the proposed SpaceX Operations Area, as first reported by Florida Today on Friday. According to the document, SpaceX is seeking permission to build on a 67-acre patch of land about one mile north of KSC's visitor center complex.
SpaceX wants to build a 133,000-square-foot Falcon hangar to process the used boosters and other rocket materials that it recovers. The hangar would facilitate more efficient recycling of the materials which could potentially save the company billions of dollars per launch.
But what good is a hangar without a futuristic, ovular control center that sits on top of a 32,000-square-foot tower that stands 300 feet tall? SpaceX makes such a case in its proposal. The "world-class, architecturally distinctive" control tower would be used primarily to monitor launches and landings, but its towering imagery on the Cape Canaveral horizon would no doubt assert SpaceX's dominance as the most influential private-sector player that is currently working with NASA.
"As SpaceX's launch cadence and manifest for missions from Florida continues to grow, we are seeking to expand our capabilities and streamline operations to launch, land and re-fly our Falcon family of rockets," said SpaceX spokesman James Gleeson.
While clearly serving SpaceX's manufacturing needs, it's hard to ignore just how flashy these plans are. In addition to the futuristic tower, SpaceX also wants to build a "rocket garden" that showcases what the company considers its most prized and historic space vehicles. This won't just be a graveyard for older rocket models; it will create a forest of towering rockets that give dramatic testimony to the company's prowess in space exploration.
The proposal justifies the expansion by arguing that the KSC's current offerings won't support the 54 launches that SpaceX plans of Falcon 9 or the 10 annual launches planned for Falcon Heavy. By obtaining the space and the green light to build, the proposal says, SpaceX will have the facilities it needs to build, repair, and launch more rockets each year.
SpaceX plans to reach 30 orbital launches in 2018, which is already a record number of missions for the United States. Considering the grandiose proportions presented in the current proposal, it's clear that the company intends to reach even further with orbital launches in 2019.