Disneyland Shanghai Looks Like the Happiest Place on Future Earth
Jet packs and lightcycles are par for the course in this $1.5 billion geek Valhalla.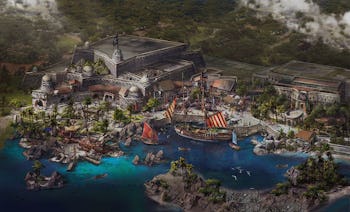 YouTube
Disneyland Shanghai opens its doors next spring and, by the look of the park model unveiled by Disney chairman and CEO Bob Iger, the House of Mouse has built a $3.5-billion Valhalla. Like its stateside companion, the park is split into districts: Fantasyland, Treasure Cove, Adventure Isle, Mickey Avenue, the Gardens of Imagination, and Tomorrowland. But really, it's all Tomorrowland. Everything is high tech. Orlando looks like a primordial swamp.
The new park will feature a Marvel Universe with a multimedia exhibit on the comic book crusaders, as well as a Star Wars Launch Bay full of props, memorabilia, and set pieces from a galaxy some ways off. Basically every major summer blockbuster you can think of is going to be represented at this park. Pirates of the Caribbean? Yeah, of course.
Visitors can stay in either the 420-room Shanghai Disneyland Hotel or the 800-room Toy Story Hotel.
Besides the insane attractions — seriously, Tron lightcycle — CNN reports the park will be a unique blend of theme park advances and Chinese culture, with local artwork and culture blended into the architecture and design. The park, Disney's sixth resort and third in Asia, is expected to dwarf the one opened in Hong Kong almost a decade ago, which premiered with fewer attractions and a smaller budget.