DoD's Cheery 'Project Maven' Seal Features Smiling Warfare Robots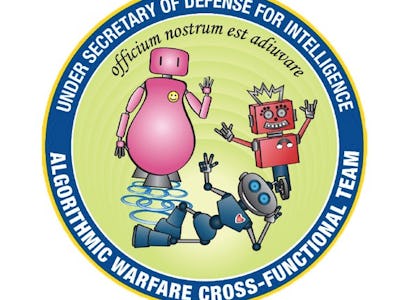 Controversy has been swirling around the Department of Defense's artificial intelligence initiative, Project Maven, and worried Google employees have recently put the tech giant on blast for its involvement in the project.
Tech workers have taken issue with Google's participation in project Maven, which is training artificial intelligence to recognize potential targets in drone video. Although the details of Google's contract for sharing A.I. technology with the DoD remains unclear, it's enough to concern Google employees that their company may become a weapon of war.
Earlier in April, over 3,100 employees signed a petition asking Google to pull out of Project Maven, demanding a "a clear policy stating that neither Google nor its contractors will ever build warfare technology." Maven's technological advances have already been used in the Middle East and Africa to sort through the massive amount of data that US drones and sensors pick up. Not exactly light-hearted stuff. Which is why the Department of Defense's design choice for Project Maven's official seal seems so very bizarre.
The project is formally known as the Algorithmic Warfare Cross-Functional Team. The seal above was included in a March 20 presentation by Lt. Gen. Jack Shanahan, director for Defense Intelligence for Warfighter Support in the Office of the Undersecretary of Defense for Intelligence. It features three cartoon robots. Each one has a different badge: a smiley face, a heart, and a rainbow. One appears to ride a unicycle. According to the DoD business partner's translating service, the motto — written in Latin — is as upbeat and unrealistic as the robot illustrations above:
Googles A.I. lead Jeff Dean told Wired that Google's role in Project Maven is "relatively mundane," and mostly involves assembling a bunch of Google's algorithms that are already open sourced for the DoD. But with the Pentagon's plan to extend Project Maven to more types of military drones, and a proposal coming to build a center for military and intelligence to develop A.I., Google might have to weigh its employees wishes against an enticing bottom line.
*Inverse reached out to the DoD for comment on the seal's design. We will update this story if we hear back.*