This Tiny, Credit Card-Sized Battery is the Emergency Charger of Your Dreams
The LithiumCard Wallet Battery is small but seriously mighty.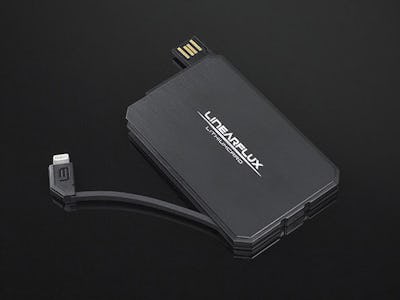 Stack Commerce
It's a tale as old as time: low battery. Unless you're vigilant, it can strike when you least suspect: at the end of a workday where you maybe spent a little too much time in the bathroom stall crafting your SimCity; at a particularly boring ballgame in which scrolling endlessly through twitter is the only entertainment option available; using up that precious location services CPU because your damn dad doesn't remember where the damn bowling alley is.
More and more, it's becoming essential to have a backup battery option on hand for your devices. Phones last longer than they used to, but we also use them way more than we used to, and we need to make accommodations. Enter the LithiumCard Wallet Battery: the less-than-pocked-sized battery pack of your dreams.
If, like me, you live (and will likely die) in the terrifying limbo of "low power mode" day after day, there is no less intrusive, more game-changing solution out there than the LithiumCard. At just 1.6 ounces, and with the thickness of five credit cards, the Lithiumcard can be brought easily pretty much anywhere. No "battery pack" cases, no giant, hulking charging stations, just a neat little emergency charger to get you through the new few hours.
It's super fast, too. The LithiumCard battery charges phones at a speed of roughly 1 percent charge per minute, so even when you're in the tightest of binds, you can get those precious few extra minutes of juice.
The LithiumCard Wallet Battery is currently on sale to Inverse readers at a heavily discounted price. Usually $59.99, our readers can pick one up for just $20 for a limited time. And, yes, there's a lightning and a Micro USB option, so no matter your device, you can get in on the action.