Catching the Big Fish: Tame Impala's Search for Pop Perfection
Idealism, beauty and self-sabotage on the band's new album Currents.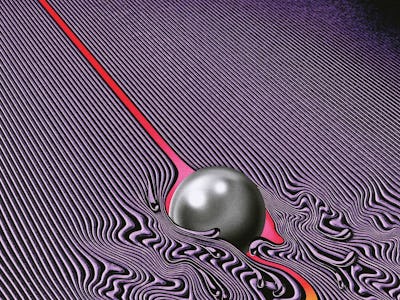 Many of the songs on Tame Impala's new album Currents are about to change, or at least, the illusion of it. On the aptly titled "Yes I'm Changing," lead singer/multiinstrumentalist/songwriter Kevin Parker gripes, "They say people never change/ But that's bullshit, they do"; later in the album, he speaks less confidently, "I feel like a brand new person…mak[ing] the same old same mistakes." Sometimes, "change" is what happens after one decides that things should change — wrapped up in the self-consciousness inherent to "turning over a new leaf."
Currents is an album that sounds, much like making a big shift, like Parker responding to the idea of making one. There's no pretense that the shift to this more aerated, synth-heavy, funky sound is based on the natural drift of Parker's emotions; it's a stylistic posture he's working his hardest to strike. "I know that you think it's fake/ But maybe fake's what I like," he quips. Certainly there's nothing wrong with dreaming big and different, and Parker isn't pretending to be doing anything else.
But though Currents' shadows of R&B and disco are wholly absent from Tame Impala's psych-rock-steeped previous two LPs, it has the same level of specificity of reference points and streamlined purpose. Parker's perfectionism is on the surface of his music; as in the case of Todd Rundgren's work, it's almost its subject.
On the new album, Parker seems constantly at pains to distill his ideas down into big gestures — to edit out as much as he keeps in. He shoots for the stars on each track, chasing down some platonic ideal of a "hit." The album is packed thick with weightless inclines and declines toward moments of falsetto-heavy soulfulness and honeyed, anti-heroic mantras. We feel Parker systematically choosing his stylistic talking points, and walking around towards them. These are songs that sound like the result of enough fat-trimming that their leftovers could probably form a full album in their own right. Frequently, the exhaustive approach yields stunning results: at those moments, the perfect architecture towers large and subsumes its own fussiness. But nothing does this as effectively as "'Cause I'm A Man," which delivers gargantuan, indelible melodic gestures across the board. A leadoff single for a reason, the song realizes what everything else on the album seems to be aiming towards.
But sometimes, when Parker aims to pack the most direct punch possible, he seems to do the exact opposite. "New Person, Same Old Mistakes," for example, dares to wax a bit more funky than the rest of the album, zeroing in on a sticky, syncopated main vocal lick. But Parker clings to it for dear life, as if veering from or embellishing it too heavily would sabotage its populist potency. A little controlled development feels like it would bring out the melody's inherent soulfulness in earnest (loosening melodic strictures as an expressive too is, after all, central to that type of music) but Parker is loath to attempt this. Currents is peppered with not-wholly-there hooks (see "Eventually" or "Nangs") and filler verses that make one wish that Parker would sometimes play it a bit less safe and let some cracks show in his edifices.
There is no doubt that Currents is as well-crafted, visionary, and appealingly blockbuster-scaled an indie rock album as we've seen in the past 5 years or more. However —putting aside the fact that the bar is not terribly high — Parker's album feels a bit devoid of the more elusive qualities that make the pop music it borrows from so effective, even if the stylistic amalgam he presents is inspired and singular. It feels as if the record, as a whole, is reaching for an ideal. Instead of demonstrating a fully-formed sound, Currents dramatizes the battle to realize one.