How Tamara de Lempicka's 'Green Bugatti' Painting Defined an Era
In the 1920's, it was a symbol of female independence.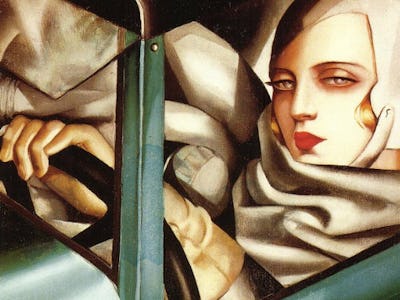 On Wednesday, Google celebrated the life of the art deco painter Tamara de Lempicka with a google doodle. The Warsaw-born artist would have been 120 years old this week. Despite creating her most famous paintings nearly a century ago, the women featured in much of Lempicka's iconic work exuded a sexual confidence that epitomized the coming era.
Known for her portraits and nudes, Lempicka painted with a cubism-influenced style that landed her in the art deco movement of the 1920s. Living among the bourgeois and bohemian of Paris's Left Bank scene, Lempicka chose the beautiful and bold aristocrats of her social circle as her artistic subjects.
Despite her usual inspirations, the one painting that could be called Lempicka's most famous is in fact a self portrait. "Autoportrait (Tamara in a Green Bugatti)", painted in 1929, was originally commissioned by the German fashion magazine Die Dame for an issue about women's independence. The painting shows Lempicka, seated casually with an icy gaze, in the driver's seat of an emerald green sports car. Die Dame defined the image as "a symbol of women's liberation," as it displayed an aggressive confidence mixed with unabashed luxury.
In the portrait, Lempicka wears a leather racing helmut and matching gloves, with a large grey scarf. True to Lempicka's reputation as something of an eccentric who liked to make her own rules, the artist didn't actually own a green Bugatti, rather, her car was a small, yellow Renault. A little self-aggrandizing aside, the image went on to be known as a symbol of women's emancipation.
Lempicka created a prolific body of work during her time in Paris during the late 20's and early 30's, before fleeing moving to the US in 1939 at the dawn of the Second World War. "Autoportrait" put Lempicka in the driver's seat — albeit on the opposite side so that she is closer to the viewer — in an environment where she clearly embodied wealth and control.