'Ballers' Recap: The Rock Is Bigger Than His Problems
Our man Spencer finally comes alive.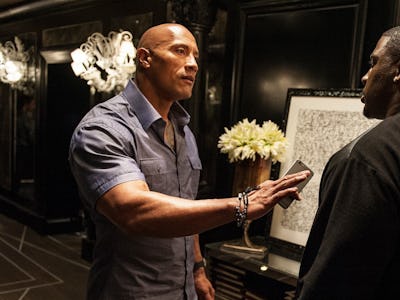 This week's episode of Ballers found our heroes in the midst of plotlines established previously: Ricky is hoping to make peace with Alonzo; Spencer is struggling with CTE; Joe is desperately trying to rustle up business. (The "Charles is getting sexted" subplot needs to die immediately.) The episode opens like Episode 1, with Spencer waking up from a vision of getting his bell rung. Tracy, the NFL reporter and Spencer's sometimes girlfriend, pressures Spencer to go to a doctor about his symptoms — she's out the door to Vegas because "Richard Sherman challenged Money Mayweather to a bare-knuckle brawl last night" — which K and Spencer relents. Though the other characters in the show are only waking up to their problems, Spencer actually makes a move. It's notable for a couple of reasons.
Coming into Ballers, I made a safe assumption that Dwayne Johnson would be the rock (haha) of the series. So far, that hasn't been the case. His character, Spencer Strassmore, has been the sort of walking cliche that doesn't inspire much interest. In "Heads Will Roll," however, Spencer comes alive: Not only does he go to the doctor, something he has been avoiding cuz he's such a tough guy, but he also sticks around for an MRI, something even more out of character.
On the biz front, Troy secures a great extension deal for Vernon, only for Reggie's greed to get in the way. Having been shut out — Reggie hung up on Troy when he nailed down the Cowboys deal — Spencer heads over to Vernon and Reggie's dinner after the doctor and blows up their spot. Once Vernon pays the $300k he owes Spencer, they're done. Given that Spencer had been extremely wishy-washy until this point in the show, seeing him come alive in "Heads Will Roll" was a dope development.
Elsewhere, Ricky is learning to control his anger; Joe is wooing Victor Cruz; and Charles is over-reacting to a sext like he's never seen a woman naked before. It's pretty humdrum shit, but in this episode of Ballers, the star that needed to step up did so in a big way, showing that the show is bigger than its problems.
In the words of Ricky Jerret, let's ball.