The First Chapter of "Go Set a Watchman" Is Great
An excerpt from the long awaited follow up to Harper Lee's "To Kill a Mockingbird" has us wanting to read more.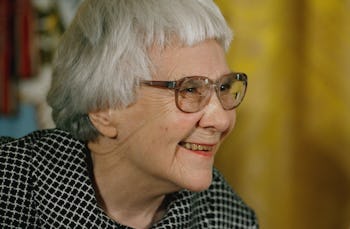 Getty Images
This Tuesday sees the release of author Harper Lee's second novel, Go Set a Watchman, the sequel to the perennial high school classic To Kill a Mockingbird. Written in 1957, it's only Lee's second book published after Mockingbird, but was actually written first. Lee's editor enjoyed the Watchman manuscript when the then young writer submitted it, but suggested expanding on its flashback sequences to write something else about the female protagonist as a child, which became Scout Finch's recollections in Mockingbird. The first chapter of the new book has popped up online and looks to bring readers back to a changed world from the one Lee created over fifty years ago.
The chapter opens with Scout — now a twenty-something referred to by her full name, Jean Louise — on a train called the Crescent Limited from New York City heading back to her hometown in Maycomb Junction, AL.
Reading the chapter is almost as nostalgic as the character is at the beginning of the scene. It's awash in a gorgeous sense of remembrance and forgetting and immediately captures the kinds of fleeting moments that enter and leave your head while watching the outside world float by from the inside of a train. She files through her traveling foibles, misremembers poems by William Cullen Bryant and William Blake and then goes on a short tangent about her family history of war heroes and idiot savants in Maycomb.
When the train pulls into the station, she soon meets up with Henry Clinton, a young disfigured war veteran and suitor to Jean Louise. The details roll out from there.
Jean Louise, it seems, is returning to check in again on her ailing father, the stately pillar of literary goodness Atticus Finch, who is suffering from a bad case of rheumatoid arthritis and remains talked about but never present in the chapter. Also absent is Jem, Jean Louise's brother that was seen in To Kill a Mockingbird, who we learn dropped dead under mysterious circumstances sometime after World War II. Atticus then took Clinton under his wing to take over the family law practice, and the veteran soon started a fling with Jean Louise.
The rest of the chapter builds this budding romance in Lee's typically spare and unadorned language. But it's illustrative enough to perfectly set the simple scene in the reader's mind. Scout has grown up into a sexually liberated young woman, and neglects Clinton's marriage proposals because she doesn't want to commit to a normal relationship.
It's a great little first chapter, one that makes everything that came before it seem to lead up to the moment you start reading. Lee's next book looks to explore the types of Southern mores present in her first, but it also sets up what one hopes will be an absorbing portrait of young womanhood. Reading an exclusive online chapter to a book made 60 years ago is as awkward as it is sounds, but it does what any excerpt should do: make you want to find out what happens next.
You can read the first chapter for yourself over at the Wall Street Journal and listen to the audio version read by Reese Witherspoon here.