The Designer Who Made Von Dutch and Ed Hardy Huge Is Dead at 57
Pre-recession America was all about Christian Audigier's threads.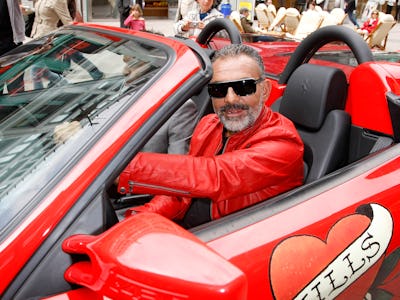 Florian Seefried, Getty Images 
One of the most influential pop designers of the 21st century is gone. Christian Audigier, 57, who helped grow the Ed Hardy and Von Dutch brands into divisive fashion icons, has died of the blood disorder Myelodysplastic Syndrome (MDS).
The clothing brand that was designed by Don Ed Hardy, a former tattoo artist, was garish, distinct, and, for a time, virtually synonymous with a certain subset of dudes. Loud, bright colors, large graphics, many skulls and tigers and eagles — if a single style defined pre-recession America, Ed Hardy fit the bill. What Audigier was able to do was to make the small brand into an international fashion force that at its 2009 peak sold $700 million in clothing and merchandise. But that quickly dropped off as Peak Hardy hit. The aesthetic, once ubiquitous, took on an instantly dated look, like disco's last days.
The brand wasn't Audigier's only time to catch lightning in a bottle. He also helped make Von Dutch an inescapable mid-2000s brand, plastered on trucker hats and made famous by celebrities who wanted brand-name faux-déclassé shirts and accessories. In both cases, success came quickly and so did the fall. But on this, you must give him credit: Audigier's styles were felt all over the globe, and for a man who shuffled off the mortal coil at a relatively young age, you cannot begrudge his rapid ascents.