Eta Aquariid Meteors: How to Watch the Celestial Event
It won't be easy, but it's worth it.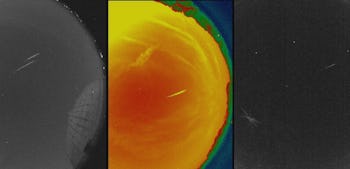 NASA
The Eta Aquariid meteor shower has kicked off and although the celestial event will be ongoing until the end of May, this weekend will be the best time to catch a glimpse of these meteors streaking across the sky.
On May 6, the Eta Aquariids will be at their most vibrant and visible to observers. This shower tends to favor viewers in the Southern Hemisphere and is best viewed anywhere from the equator to 30 degrees south latitude. However, those in the Northern Hemisphere will be able to catch the show early on Sunday morning. The meteors will be above the horizon for a few hours before dawn.
Whereas viewers in South America, Australia, and parts of Africa can expect up to 60 meteors an hour, NASA estimates roughly 10-30 meteors will be visible in the United States during Sunday's peak. The shower may not be as bright as the Leonids but for those who missed last month's Lyrid shower, this is a great weekend to catch the meteor shower known for leaving stretched, illuminated trails in the sky long after the meteor appears.
The Eta Aquariids got their name because they appear to originate from the constellation Aquarius, with a radiant close to one of the constellation's brightest stars, Eta Aquarii. This shower is famous for its "Earth-grazers," or meteors that appear to hug the horizon rather than shoot overhead. The results are longer, lingering dust particles in the sky that create dramatic streaks.
Watching this year's Eta Aquariid shower will be even harder than usual because it arrives during a waning gibbous moon, whose glare will only add to the light pollution this weekend. However, this is the last meteor shower until July, so those who want to catch the last meteor shower for the next few months should set their alarms for early on Sunday morning. NASA recommends that viewers lie flat on the ground to get the most expansive view and let their eyes adjust for at least 20 minutes before expecting meteors.
Those who do get to see the Eta Aquariids this weekend will be able to say they got to witness a piece of space debris from the famous Halley's Comet. The Eta Aquariids might not be the easiest meteor shower to watch, but it offers some of the most illustrious and longest-lasting streaks in the sky that are perfect for photographers.