What Is Sinemia? Here's How the MoviePass Rival Works
It's cheaper, but it's different.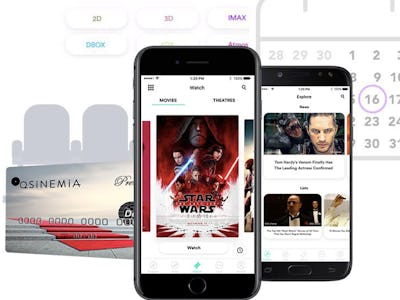 Sinemia
There's a new confusingly cheap movie subscription service in town. Sinemia, an app-based theater ticket service similar in some ways to MoviePass, is now offering four very cheap monthly plans, with one going as low as $4.99.
Sinemia is a little different from MoviePass in that it offers subscriptions to see a certain number of movies a month, as opposed to MoviePass' unlimited plan. Until now, the service was only offering ticket deals to Los Angeles moviegoers, but it's officially gone national with the latest round of deals. The latest subscription plans, announced Friday, break down like so:
For regular tickets:
One ticket a month for $4.99
Two tickets a month for $6.99
For tickets that include 3D and IMAX-4DX:
Two tickets a month for $9.99
Three ticket a month for $14.99
Considering that seeing a movie in IMAX theaters in New York costs a whopping $23.29 for an adult ticket at AMC theaters, this is a pretty good deal. MoviePass subscriptions also don't work for IMAX or 3D, for now. Sinemia also said Friday that they offer advance tickets and seat selection.
"Since 2014, we've been fine-tuning our model and are now the leading movie subscription service in Canada, U.K., Turkey, and Australia," CEO and founder Rifat Oguz told Variety. "Thanks to our global experience, we've created a sustainable model and are very excited to bring a new slate of affordable and flexible subscription plans to moviegoers."
The news comes on the heels of MoviePass' announcement that it would be bringing back its $9.95 unlimited plan (well, technically, it's a one-movie-a-day plan). The plan had disappeared for two weeks, to be replaced by an $8.00 deal that included three movies a month and a subscription to iHeartRadio All-Access music streaming for three months.
There's definitely some appeal in a cheaper monthly plan, even if it offers fewer tickets; how many of us manage to see more than a couple of movies a month anyway? But whether Sinemia's strategy of less for less manages to usurp MoviePass' grip on the market remains to be seen.