One of the Best Wireless Chargers Just Got a Huge Discount
Free yourself from wires. You won't regret it.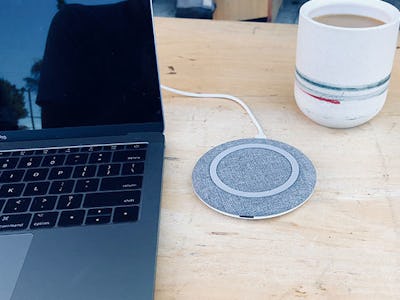 Stack Commerce
There are a lot of reasons you should switch to wireless smartphone charging for at least one of your home outlets: the speeds are great, it'll reduce the stress and wear on the phone's cable socket, and, yes, it just looks cool and sci-fi as hell.
After a false start as a weird, unreliable piece of fad tech around 2009, wireless charging is now very much in the mainstream, and is now a built-in standard for most new Androids and iPhones. It's also probably more affordable than you'd think, too (but still a little bit at a premium).
There are some great wireless chargers out there, but you might not find a better one (or, for that matter, a better deal right now) than the chargeONE Wireless Smartphone Charger. For one, it can hit charging speeds of up to 10W (FYI: the standard provided apple wall charger provides half that). For another, its classy woven fabric design not only makes it unobtrusive anywhere you put it, it actively looks good. An anti-slip ring keeps your phone in place and the charging stable, and works through pretty much any phone case, even metal ones!
If you're tired of plugging in and want a smoother, more modern experience, the chargeONE Wireless Smartphone Charger is one of the best in business. And, for a limited time, Inverse readers can get it at a serious discount, in both its sleek black and elegant grey color ways. Usually $59.99, you can click here for 41 percent off, and get it for just $34.99.