It's the Summer of Julia Holter
Lush and refined indie pop from LA's best singer-songwriter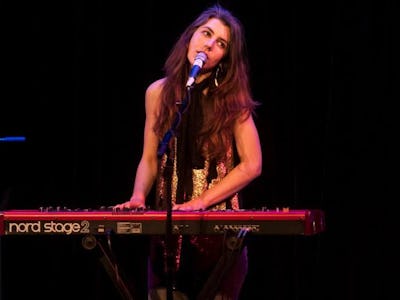 In the first verse of her new song, "Feel You," Julia Holter proclaims: "You know I love to run away from sun." Of course, if you live in LA like her, you can probably sympathize. Holter's new album Have You in My Wilderness is slated to arrive around the time we will all be removing our air conditioners — late September — and this new track, with its dreamy, Super 8-style visual accompaniment (a trademark of Holter's videos) bodes well for her new project.
Holter is a detail-oriented composer and muted but expressive vocalist; she's three renowned and dense albums deep into a successful career that shows no signs of letting up. She emerged out of her background in avant-garde classical music (she's conservatory-trained, and writes her own chamber orchestrations for her albums). Over her past two releases, however, her work has been largely grounded in the tuneful, conversational style of '70s singer-songwriters from Joni Mitchell to Fleetwood Mac's Christine McVie.
One of Holter's main strengths is an ability to break apart traditional pop song structure, but delicately — while maintaining a palpable sense of order and unity. "Feel You" constantly shifts underneath her endless stream of vocal melody, and yet still seems to be building on just one little fragment of nursery rhyme-like inspiration. There's nothing not beautiful about this song.