What Song Were the Guardians of the Galaxy Listening To in 'Infinity War'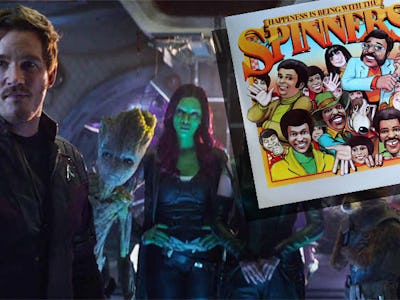 Marvel
Avengers: Infinity War wasn't Guardians of the Galaxy vol. 3, although that bunch of A-holes had a major role in the plot, and they brought a bit of their soundtrack with them. When the Guardians are first introduced, early in the movie, they're rocking out to a jam from the Sixties. Let's call it a cut from Awesome Mix 2.5. Here are the details.
This post does not contain any spoilers from Infinity War. Y'all are safe to read ahead.
When we first see the Guardians as they fly through space, Star-Lord and Gamora are singing along to "The Rubberband Man," a 1976 song from the Detroit R&B group The Spinners. It's an upbeat, enthusiastic tune about bouncing back and self-improvement. When it was released, "The Rubberband Man" enjoyed three weeks at No. 2 on the Billboard Hot 100, though it never claimed the top spot despite all the good vibes.
Within the fiction of the Marvel Cinematic Universe, it's safe to assume that "The Rubberband Man" was one of the songs on the Microsoft Zune that Peter gets at the end of Guardians of the Galaxy vol. 2. The Zune holds 300 songs, which blows Peter's mind, given that he'd just had two cassette tapes and a Sony Walkman prior to this. Other tracks on the Zune include Cat Stevens's folk-rock ballad "Father and Son," and songs by the prog rock band Traffic, Irish metal band Thin Lizzy, and Alice Cooper.
Given where Guardians of the Galaxy vol. 2 takes place in the MCU's timeline, the Guardians of the Galaxy have been listening to the songs on Peter's Zune since 2014, which explains why Gamora knew the words. Luckily, they're not sick of Peter's music selection.
Avengers: Infinity War is in theaters now.