How Olympic 'Flying Housewife' Fanny Blankers-Koen Smashed Prejudices
The athlete still holds a record today.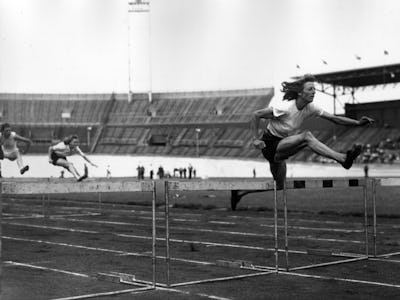 Wikimedia / Materialscientist
Google paid tribute to Fanny Blankers-Koen on Thursday, commemorating what would have been her 100th birthday. The Dutch Olympic athlete, who died in 2004, was nicknamed "the flying housewife." Blankers-Koen stunned critics and helped transform attitudes around female athletes.
Born near Baarn in the province of Utrecht, Blankers-Koen showed strong promise from an early age. At just 18 years old, she took sixth place in the high jump and fifth in the four sets of 100 meters relay at the 1936 Olympic games in Berlin. World War II looked like it would put a damper on Blankers-Koen's ambitions — with the 1940 and 1944 games canceled, Blankers-Koen wouldn't have the chance to compete in the Olympics for another 12 years. She had two children with her coach Jan Blankers in 1942 and 1945, while also building on her technique at the same time. In 1943, she set the world record for the 80-meter hurdles, high jump and long jump. Blankers-Koen turned her attention to the 1948 London games.
"I got very many bad letters, people writing that I must stay home with my children and that I should not be allowed to run on a track with — how do you say it? — short trousers," Blankers-Koen told the New York Times in 1982. "But I was a good mother. I had no time for much besides my house chores and training, and when I went shopping it was only to buy food for the family and never to buy dresses. One newspaperman wrote that I was too old to run, that I should stay at home and take care of my children. When I got to London, I pointed my finger at him and I said: 'I show you.'"
Show them she did. At 30 years old, the mother of a 6-year-old son called Jantje and a three-year-old daughter called Fanneke, she equaled the world record with 11.5 seconds in the 100-meter sprint and declared her intention to compete in that summer's Olympics. She went on to win four gold medals in the 100 meters, 80-meter hurdles, 200 meters and four sets of 100 meters relay — the first woman to win four medals in one Olympics.
Blankers-Koen's memory continues. Beyond her trailblazing accomplishments, she still holds the record for the largest win in an Olympics 200-meter sprint, where she beat her opponent by 0.7 seconds.
It's not the first time Google has paid tribute to a pioneer. Previous doodles paid tribute to Martin Luther King Jr., Dr. Maya Angelou, and Jane Goodall.