JOB HACKS | Buzz Kanter of 'American Iron' Magazine 
On rescuing a magazine from near death and the real problem with the Internet age.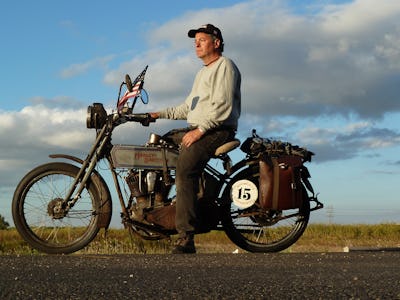 Careers rarely go according to plan. In Job Hacks, we shake down experts for the insights they cultivated on the way to the top of their field.
Name: Buzz Kanter
Original Hometown: Stamford, Connecticut
Job: Editor-in-Chief and Publisher of American Iron Magazine
How did you get your start?
I bought my first motorcycle in college, when my parents told me I'd never be allowed to have one. The first thing I did when I went to college was buy one. I started trading them in for faster and larger motorcycles. After college, I started racing. After that, I was working for my parents' publishing company, which was crossword puzzle magazines. But I never lost my love of motorcycles or speed.
What motivated you to turn that passion into a profession?
Well, I started messing with old motorcycles in the late '70s and early '80s — pre-eBay and Craigslist. I realized there was no way of locating parts, bikes, and information about bikes. So I got my MBA, and for my thesis I created a magazine called Old Bike Journal. The magazine expanded and grew, found quite a presence. This was 1989. In 1991, I bought American Iron, a Harley magazine. When I bought the magazine, it was losing a million dollars a year. At the rate it was burning money, if we didn't turn it around within four months, I would have been in personal bankruptcy.
How did you manage that turnaround?
I have a background in circulation, so we increased that and slashed the expenses. I also sold Old Bike Journal to evolve and focus on quality.
Have you found it difficult to maintain your business post-Internet?
Rather than try to compete with the Internet, we go for long-form journalism and solid technical backup. It's interesting because so often, people are telling me print is dead. I've got to say, while it's not as healthy as it used to be, it's definitely not dead. The fact that we stay in business in niche magazines speaks volumes. Journalists today have to find a way to get your message out of the clutter. People say the Internet is killing the magazine, but what's killing it is the lack of spare time. If you order a coffee and you're waiting for it to be prepared, people check their phones, fill what used to be spare time with distractions. People used to read or spend that time thinking about things. We're not as efficient with time as we can be. On one hand, we're a dinosaur, but on the other hand, a lot of people enjoy the experience of turning the pages and feeling the paper in their hands.
In your opinion, what's the best bike?
Whichever one is parked downstairs when I'm ready to go home.
When did you really feel like you'd found success?
When we had our small Old Bike Journal magazine, we reached out to Jay Leno, and he said, "Oh sure, I've read your magazine, I picked it up at the store and love it!" That was exciting for someone literally publishing it out of a spare bedroom in my house. People would also write in and say, "I've been looking for a spare part for years, and I found it through your magazine." It's a wonderful feeling to know you're doing something to help. I'm also one of the few journalists in the Motorcycle Hall of Fame — it's mostly famous racers or inventors.
What advice would you give someone else looking to turn a passion into a profession?
I think it's important to recognize that when you turn your passion into a profession, it will be more rewarding in some areas, and not rewarding in other areas. If it's a hobby, you can put it aside. If you're doing it for a living, you don't have that luxury. Go in with your eyes open. Too many people say, "Oh, I love knitting, I'm going to have a knitting school," only to then realize they don't love teaching it. If someone has a deep passion about something, a blog is easy in, easy out if it doesn't work.