Design Firm's Gigantic Ball Pit Makes D.C. Fun Again
Finally, something to love about our nation's capital.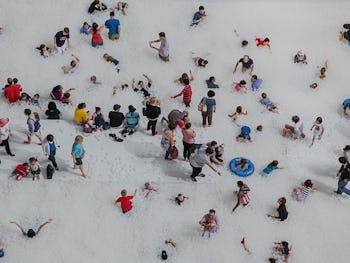 www.snarkitecture.com
A new installation by Brooklyn-based design studio Snarkitecture at Washington D.C.'s National Building Museum seeks trigger Discovery Zone flashbacks in adults. The firm has — to unexpectedly beautiful effect — turned the museum's main hall into a 10,000-square-foot ball pit.
Titled "The BEACH,", the show runs through September 7 and features an "ocean" of nearly one million recyclable plastic balls next to a 50-foot shoreline complete with beach chairs, umbrellas, games, and even a snack bar.
According to the museum's website, "The BEACH is contained within an enclosure and built out of construction materials such as scaffolding, wooden panels, and perforated mesh, all clad in stark white," and is encased in "a mirrored wall that creates a seemingly infinite reflected expanse." It's part of the museum's "Summer Block Party" consisting of a slate of kid- and unsophisticated adult-friendly programming.
The show certainly stands on its own, but will remind museum enthusiasts of the interactive exhibits that frequently take up the entire main hall of the Tate Modern in London. The Tate has made a great deal of hay (read: money) off those exhibits and the National Building Museum may be trying to read off that playbook.
Not that we're complaining.