Kanye West Claims to Be Releasing His Book on Twitter as We Speak
You really can't tell him nothing.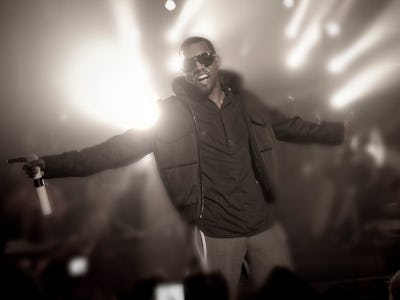 Wikimedia / LupEnd007
Everyone wants new Kanye West music, but let us remember that Kanye will present us his art in whichever form he chooses.
Case in point: his triumphant return to Twitter this week, which turns out, is just an outlet he chose to self-release his "book." The rapper/designer/entrepreneur is adding yet another title to his résumé in the most avant-garde way possible.
As a true artist, Yeezy chooses to take his creativity into new fields. Whether it's fashion, design, video games, music label owner, or sneaker partnerships, the sky's the limit. So it was only a matter of time before we received Self Help Author Kanye.
Some poetic excerpts, published in between photos of Yeezy designs, via Twitter:
It's no surprise West's latest venture is as anti-corporation as it could come, even if the tweets are technically owned by Twitter. In 2013, while promoting his album Yeezy, the rapper told radio host Sway of his dream to receive investment to realize his ideas.
"I am standing up and I'm telling you. I. Am. Warhol. I am the number one most impactful artist of our generation, in the flesh," he boldly expressed. "I am Shakespeare, Walt Disney. Nike. Google. Now who's gonna be the Medici Family and stand up and let me create more?"
Five years later, West has given up on corporate investments and decided to give the people what they want without the middleman.
At times, the live-tweeted book has gotten dark. So dark, in fact, even wife Kim Kardashian seemed concerned.
Remember kids, the music will come as it always does, and it will be ~fire~ as they say. Kanye will give the culture what it needs, not what it wants. So enjoy it while it lasts, because as Yeezy says in his self-published book: "Sometimes you have to get rid of everything."
This may or may not foreshadow Kanye's inclination to delete tweets and disappear, so grab your screenshots now.