The Standalone Han Solo Movie Landed the Best Possible Directors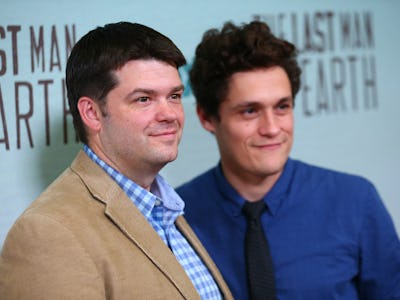 Getty Images
They've taken on historical clones, cloudy meatballs, Jump Street, Lego, and The Last Man on Earth, and now they're about to enter a galaxy far, far away. Lucasfilm announced today that directing duo Phil Lord and Christopher Miller will develop a Star Wars Anthology movie about a young version of everyone's favorite scoundrel, Han Solo. Here's where the fun begins.
The pair offered this typically deadpan quote:
"This is the first film we've worked on that seems like a good idea to begin with. We promise to take risks, to give the audience a fresh experience, and we pledge ourselves to be faithful stewards of these characters who mean so much to us. This is a dream come true for us. And not the kind of dream where you're late for work and all your clothes are made of pudding, but the kind of dream where you get to make a film with some of the greatest characters ever, in a film franchise you've loved since before you can remember having dreams at all."
They then followed that with some even funnier tweets:
According to a post on StarWars.com, the story will focus on "how young Han Solo became the smuggler, thief, and scoundrel whom Luke Skywalker and Obi-Wan Kenobi first encountered in the cantina at Mos Eisley."
Scriptwriting duties will also be in good hands as Lawrence Kasdan — who co-wrote the screenplays for The Empire Strikes Back, Return of the Jedi, and The Force Awakens — will return once again to the Star Wars universe. Co-writing the as-yet-titled Han Solo script will be his son, Jon Kasdan, the filmmaker and writer behind the Sundance hit The First Time and episodes of Freaks and Geeks and Dawson's Creek.
The second pair had this to say:
"We're so excited to be working with Chris and Phil, who will bring a fresh new dimension to the Star Wars universe," said the Kasdans. "They're two of the smartest, funniest and most original filmmakers around, and the ideal choice to tell the story of Han Solo, one of the coolest characters in the galaxy."
The Hollywood Reporter broke the news that both pairs were onboard, and were also quick to point out that they are not attached to the other standalone Boba Fett movie recently vacated under suspicious circumstances by director Josh Trank.
This caps off a busy schedule for wunderkinds Lord and Miller, who previously signed on to direct a Flash movie for Warner Bros., write and produce an animated Spider-Man movie at Sony, and potentially make 23 Jump Street.
We don't want to tell them what to do, but we recommend putting all that stuff on the back burner to tackle the Han Solo project. No reason. Just naked bias.
The film is set for a May 28, 2018 release.