That "How You Really Look" Meme May Be 100 Years Old
The century-old variation is too relatable.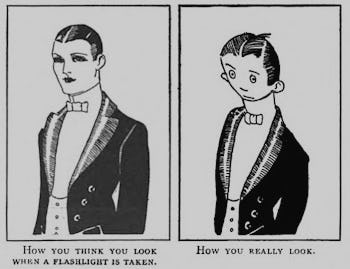 *The Judge* magazine
As with everything else, memes come and go. Just look at the "How You Really Look" internet trope, which has dominated social media for years now but has actually been around for almost a century.
A recently discovered 1921 issue of the University of Iowa's The Judge, a satire magazine, is shown to contain a dated version of the beloved modern-day meme. On one side of the image, a handsome gentleman is shown in a block subtitled: "How you think you look when a flashlight is taken." The other side of the image, a box displaying shall we say a less-than-debonair version of the man is captioned: "How you really look." Ouch! Savage yet relatable, as the kids say.
Know Your Meme calls the viral side-by-side comparisons "What You Think You Look Like vs. What You Actually Look Like." The meme authority defines it as a "two-pane image macro series illustrating the discrepancy between one's own self-image and outside perceptions of physical attractiveness. The first image typically approaches the subject's self-idealized image while performing a certain act in a positive or attractive way, followed by a second image portraying the subject in an unflattering manner." It's also wildly popular on Twitter:
This Twitter user took the opportunity to further meta the meme with his own version of the historic discovery:
The meme is known to employ the classic "pretty" vs. tired joke format:
Calling your skills into question is another self-deprecating way to participate in the meme. In this tweeter's instance, it's wrestling:
And in this case, actually looking like a wrestler:
Online dating is a great mine to dig into when it comes to this meme:
As is calling your friend group out for their petty fights:
That's one sad fridge over on the right side…
There you have it. While it's been thought the "How You Really Look" meme format originated as a byproduct of the 2009 movie (500) Days of Summer, it's now clear this meme had been conceived long before the internet "invented" it.