'Star Trek' Reboot Sequel: Simon Pegg is "Confident' It Will Happen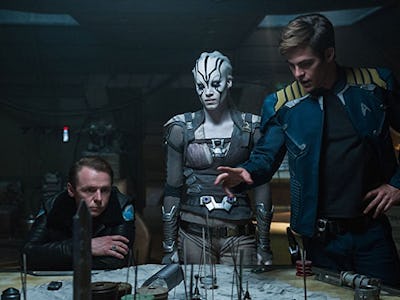 Paramount Pictures
It's been nearly two years since Captain Kirk and his crew went up against Krall in 2016's Star Trek Beyond. Last we saw them the crew was off to journey across the universe in an all-new ship. And for fans eager for the next adventure, here's some good news.
Over the week Star Trek actor Simon Pegg discussed the rebooted series' future in an interview with The Quietus. He said "I know we're doing more. I'd love to – I love those guys. It's, of course, difficult because we lost Anton [Yelchin] and moving forward without him still feels unimaginable."
Fans will remember Pegg as the franchise's chief engineer Montgomery Scott, a character who brought many of the reboot series' comedic moments. He reluctantly joined Kirk's mission in the first film and has been loyal to the crew ever since. The character, who has been played by James Doohan in the past, is best known for the very popular franchise catchphrase "beam me up, Scotty!"
Pegg also discussed the future of the franchise as a whole, including Quentin Tarantino's potential Star Trek film. When discussing the surprise of the news he said, "We were like, what? People just assume, I think, because it's Quentin that it will be R-rated but he is a massive Star Trek fan… who knows!" His statements line up with Zachary Quinto's about Paramount's excitement for the beloved property. He told The Observer "I mean the only thing I can say is there's a lot of energy around more movies … I know there are plans afoot to do at least one if not more movies."
In a world where it seems building a film franchise is the goal, Star Trek will probably do both. The reboot series' cast could reunite for more adventures while other corners of the universe are also explored. For fans of the space adventures, things are looking up.
While growing the universe can result in great things, it would be great to see Chris Pine, Pegg, Quinto, and the rest of the cast back together. They were magic together!