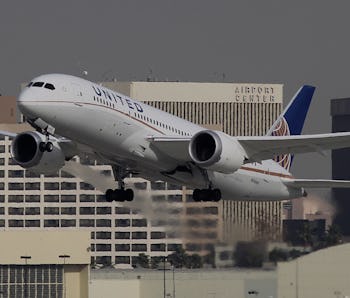 Innovation
United Airlines Fuels Up on Animal Waste
The bullshit in this story is good news. 
Getty
In a story torn from George Saunders's next collection and made flesh, United is finally a shitty airline both figuratively and literally.
Usually known for consumer service that merited a breakup letter in the New Yorker from Tim Wu, the airline is finally getting some good press with the announcement that it's trying to curb greenhouse gases this summer with a new fuel that's derived of farm animal poop and fat. The first flight using the fuel from bioenergy company AltAir Fuels will run a mix of 70 percent traditional fuel and 30 percent biofuel to power a flight from Los Angeles to San Francisco. The airline will keep testing flights during the next two weeks on the same route before — it hopes — integrating the mix across its fleet. The company also says it will invest $30 million into alternative fuel company Fulcrum BioEnergy.
Frankly, as cow farts' methane is a big part of greenhouse gas emissions, it's about time they gave something back.
"We know alternative fuels is an emerging industry that is vital to the future of aviation and this is just one of our initiatives to help make these fuels saleable and scalable," Brett Hart, United Airlines's executive vice president and general counsel, said in a press statement. "Investing in alternative fuels is not only good for the environment, it's a smart move for our company as biofuels have the potential to hedge against future oil price volatility and carbon regulations." This is all true and good. Now about those $200 "change fees"…?