Facebook Boots Richard Spencer, But He's Still Thriving on Twitter
The ban didn't slow him down.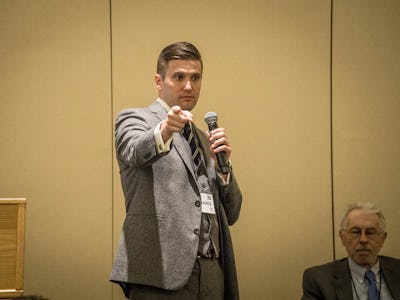 Flickr / V@s
In an effort to make good on Mark Zuckerberg's promise to ban hate groups, Facebook took down two pages connected to White Nationalist Richard Spencer. The gesture has been viewed as mostly ineffective, pointing to that time Twitter banned Spencer back in 2016, only to reinstate his account. However, Spencer's Twitter account boasts more followers than his Facebook pages ever did, driving Twitter users to call for his ban, again.
Zuckerberg testified before Congress on Wednesday to defend his company's privacy policy and handling of the Cambridge Analytica scandal. Soon after Zuckerberg insisted that Facebook bans all hate groups, Vice News reached out to the company inquiring why Spencer, editor of AltRight.com and President of far-right National Policy Institute, was still at large on the platform. Facebook responded by removing two pages affiliated with the alt-right leader on Friday.
"We do not allow hate groups on Facebook, overall," Zuckerberg told Congress. "So if there's a group that, their primary purpose or a large part of what they do is spreading hate, we will ban them from the platform overall."
Zuck's move to ban Spencer has largely been seen as lip service since it was enforced just days after the company was called out in an open letter from Myanmar's civil society organizations. The letter states that Facebook failed to act after it was turned into a tool to incite violence against the Rohingya. "The risk of Facebook content sparking open violence is arguably nowhere higher right now than in Myanmar," the letter explains, claiming it has been nine months since they first requested the company's involvement. "We've not seen this materialize yet."
Spencer appears to be an easier target for a Facebook banishment because he has become a celebrity, albeit a highly punchable one. But the two affiliate pages on Facebook amounted to less than 15,000 followers in total, which is a drop in the bucket compared to Spencer's influence on that other social platform, Twitter. Just one day after his removal from Facebook, Spencer is tweeting his thoughts on Syria to his 80,000 followers.
In the hours since he's been banned on Facebook, he has tweeted that "the Alt-Right is more necessary than ever," he has compared race to "breeds," and has shared statements that "Putin was right all along." He also describes how Russian President Vladimir Putin — who is reportedly airlifting military support to the Assad regime — "spoke insightfully" about U.S. foreign policy. A Facebook ban is not slowing this guy down, but some think it might help on Twitter.
Twitter suspended Richard Spencer's account in November 2016, along with other far-right leaders, for "engaging in the targeted abuse or harassment of others." Spencer called the move "corporate Stalinism" and was eventually given his account back. His only punishment was that he lost his verified checkmark. Twitter has not divulged any plans to reprimand the neo-Nazi again, but the more he tweets, the more the online community is asking Twitter CEO Jack Dorsey to revisit the idea.
"I am alive physically but digitally speaking there has been execution squads across the Alt-Right," Spencer said when he was first booted from Twitter. He has made no such statement in regards to the Facebook ban, but it's clear from his tweets that it hasn't hurt him much.