'Game of Thrones' Didn't Have the Right Character Duel With Andre the Giant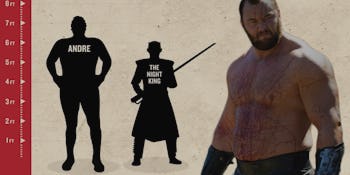 HBO
Game of Thrones is full of imposing characters, but it's a bit of a mystery why HBO chose the Night King as the show's representative in a network-wide face-off with Andre the Giant, the late wrestler who is the subject of a new HBO documentary. Sure, the Night King is the baddest villain in the Seven Kingdoms, but there is literally a character on Thrones named The Mountain, to say nothing of actual giants like Wun Wun.
The Andre the Giant documentary premieres on HBO on Tuesday night, and it promises to be a revealing look at the towering wrestler/actor/icon. To promote the documentary, a partnership between HBO and the WWE, the network tweeted out a little video that showed how the 7-foot-4 Andre matched up against some of HBO's other major faces. It's no surprise that he would've towered over John Oliver or the cast of Silicon Valley, but Game of Thrones's contender was the Night King, who stands just a little over 6 feet tall.
For what it's worth, Andre, who had gigantism, would've still towered over his rightful opponent, Gregor Clegane, a.k.a. the Mountain. Hafþór Júlíus Björnsson, the Icelandic strongman who plays the Mountain, stands at a still-imposing 6-foot-9, so he'd maybe come up to Andre's nose. Maybe.
In Game of Thrones and HBO's defense, though, they followed-up the first tweet with another Andre versus Westeros comparison. Drogon, the giant-fucking-dragon that could carry Daenerys and several other fully grown men on its back, is bigger than Andre the giant was. This is not exactly a fair comparison.
Game of Thrones Season 8 comes out in, like, a year, but Andre the Giant premieres on HBO at 10 p.m. Eastern.